As an Amazon Associate, I earn from qualifying purchases.
Last Updated on December 30, 2021 by Alexander A. Smith
Are you looking for the best toilet fill valve as you're feeling annoyed with leaky, noise or, broken toilet fill valve? We guess, "YES." You know, a leaking toilet increases water usage, that costs extra utility bill. Although there are several reasons for the toilet's leakage, the commonest one is the faulty fill valve.
Hence, you can realize how important it is to replace the faulty toilet fill valve or upgrade the old one before it fails. So, why not have the best to upgrade or replace the old one to avoid repeated damage?
Why read our article?
The problem is, it's not so easy to find out the best toilet tank fill valve that lasts long and most trouble-free from hundreds of variations. But we sincerely want to help you. For this, we along our team has invested a significant amount of time in testing and reviewing many products.
Also, we've discussed below how to choose the best one. So it will be the best use of your time to have a look at our article with a buying guide.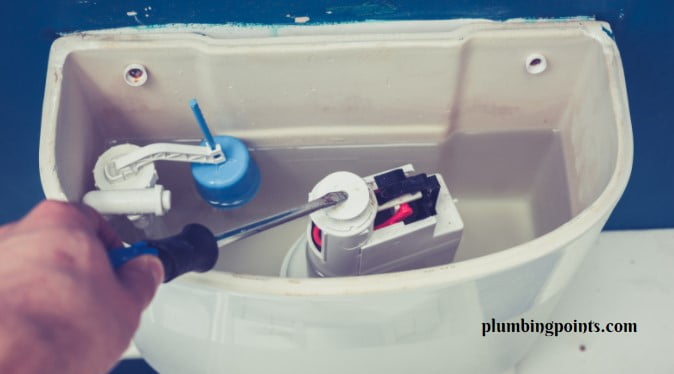 Top 10 Toilet Fill Valve with Comparison Table
Why Should You Check Our Top-Pick?
Well, our top picks of 10 toilet fill valves have high-profile designs. All our picks come with complete accessories and enjoy the recommendations of plumbing experts. It's not enough to focus on the product label of each replacement kit.
Why Should You Choose from Our List?
Each of our toilet fill valves has unique specifications that can help you save money. Generally, the rule of thumb when it comes to choosing any replacement kit is to test it. Our experts have done that for all buyers, expect you to make wise decisions when you shop.
So why delay? Jump onto our top best toilet fill valve list, and choose the one that fits your purpose and budget.
Have a great shopping experience!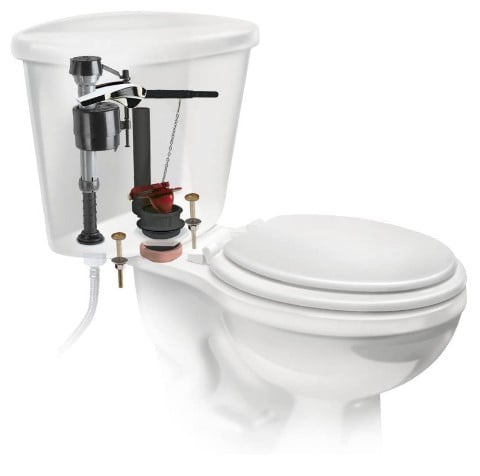 Fluidmaster is the world's #1 toilet repair brand. Since 1957 they're guiding their consumers to the right toilet repair solutions. Fluidmaster 400AKRP10 Universal All-in-one toilet fill valve is one of the most prevalent toilet valves that features everything you need to make your toilet run like new. It is in the #1 position of Amazon's Best seller Rank.
The 400AKR model is a trusted and proven kit that ensures a quiet and proper fill. Plus, this fill valve features the PerforMAX 2″ water-saving system that adjusts the maximum use of water with each flush.
This item fits most 2" flush valve, and it's the perfect combination for 1.6GPF to  3.5 GPF toilets. It also comes with a replacement toilet flush valve, a handle, and a gasket. The replacement toilet parts all feature a durable build with corrosion-resistant materials. And an included 5 years of official warranty.
Pros
Best value for money.
Easy to install.
High-quality materials.
PerforMAX water-saving optimizes your water use.
Contains everything to restore and enhance your toilet's performance.
Anti-Siphon operation, code approved.
5-year warranty.
Cons
Requires Cleaning; otherwise, it can get clogged.
---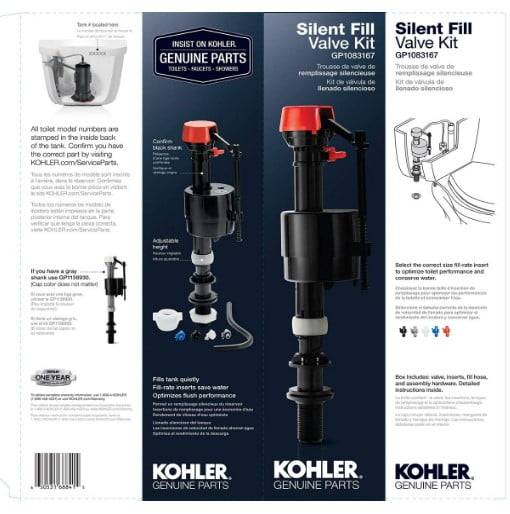 Not many names in the business of manufacturing plumbing products are stronger and more reputable than Kohler. Due to its high-quality and durability, the KOHLER GP1083167 is one of the most popular flush valves in the market.
It's a genuine innovation, both in design and performance. Be it durability or effectiveness. It's a robust peace you can trust. Besides, every necessary clip and washer lock nut comes in the package, which means you don't have to shell extra cash on the installation.
This fill valve lets you control the amount of water in the tank. It is significantly simple to raise the float ball. Turn the adjustment screw clockwise, the float ball will come at the upper side. The length is expandable to almost 14 inches to accommodate standard cleaning requirements. Which makes it an effective water-saving toilet repair kit.
The chemical resistant construction of this product ensures durability. It comes with durable plastic parts. Due to its construction and durable plastic parts, makes it resistant to corrosion and natural breakdown. Once you install it, wave hands to your worries about valve replacement for around 7-8 years.
Pros
Reasonable price
Sturdy & durable construction.
Adjustable height.
Adjustable fill valve.
Water-saving.
KOHLER genuine parts.
Ease of installation.
Cons
---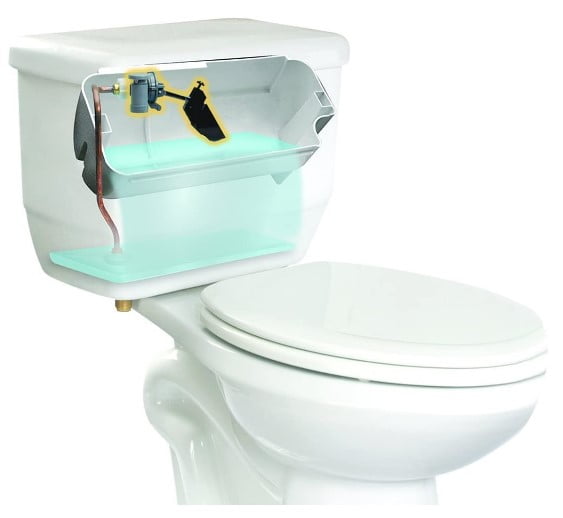 Fluidmaster provides one of the best toilet fill valves makers in the business. They are a reputed and trusted brand. Their valves are equally trustworthy to the job done. It replaces the original fill valve on both these brands of flapperless toilets.
This flapper can be installed quickly, therefore, efficiently and is a cost-effective DIY solution to common toilet fill problems. Also, it comes with anti-siphon operation and code approval. It doesn't contaminate freshwater supply and even helps to fill the tank quickly.
It is manufactured with good quality and durability, which also includes materials that are long-lasting to offer you stress-free nights.
Pros
Simple and easy installation.
Anti-siphon operation.
Made up of corrosion-resistant ability.
Comes with code approval.
1-year warranty.
Cons
Only works with Glacier Bay and Niagara brands toilet.
---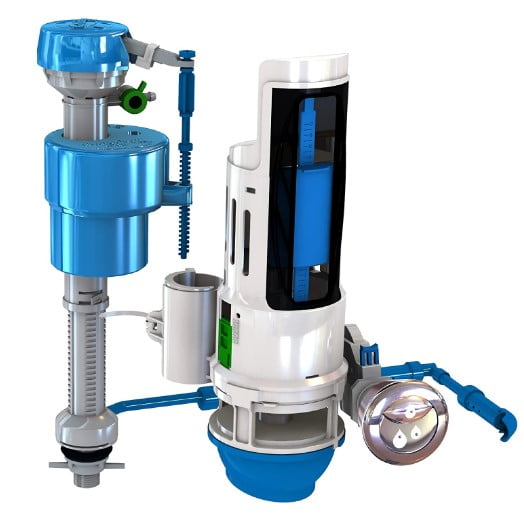 Danco is one of the most extensive plumbing repairs, replacement, and remodel suppliers in the home improvement industry, mainly focused on empowering DIY consumers with plumbing solutions.
They come in a stylish design that gives your home a more fresh appeal and renewed elegance. The Danco HYR260 will increase your toilet's performance and save water. It will convert your standard toilet into a two-button dual flush toilet quickly and easily.

One of the perks that it has is the presence of a dual flush converter. This particular component effectively reduces the amount of water you are going to flush. Of course, this toolkit is a one-stop-shop for all your everyday toilet repair needs.

It comes with a unique fill valve that notifies if any notable leak is detected. This unique feature is a huge bonus because it ensures all leaks are promptly dealt with, so no more surprises the next time you receive your monthly water bill.
Pros
The quick installation process, no tools required.
Adjustable in-tank valve.
Improves the efficiency of water usage.
Saves water and money as well as eliminates common leaky toilet problems.
Comes with a dual flush option.
Cons
Compatibility with various toilet designs is an issue.
---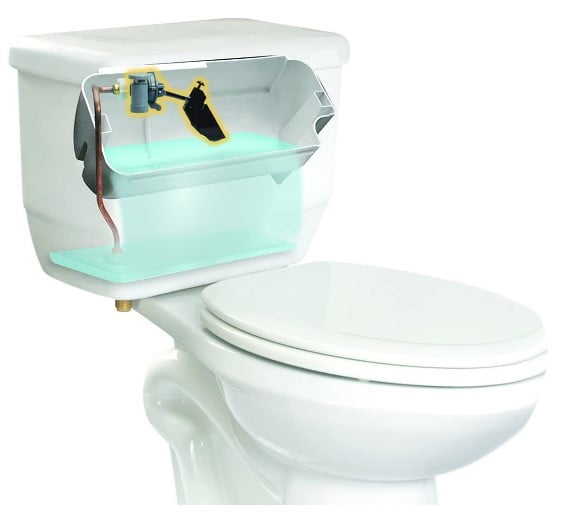 Fluidmaster 400crp14 toilet fill valve is what you need to fix your leaky toilet or your flushing problem. It will optimize the performance of your toilet. It is cheap but your wrinkled eyebrows will turn into happy face when you learn that it will save you a lot of money in the long run. This affordable and longer lasting feature qualifies it to be one of the best on the market.
It is well built from sturdy rubber and plastic. The toilet valve is a universal design that fits most toilets on the market. The internal parts are designed to withstand the water so they will not deteriorate over time the metal parts do. All the components are also extremely resistant to chlorine.
Moreover, the valve is fully adjustable to suit your toilet specifications. It is what you need to have a quick and reliable refill every single time you use the toilet. As it fills 2X faster than other models on the market.
It certainly is a quiet option to go with that won't wake up your family every time you flush during the night. The most extraordinary thing about this valve is that it prevents the backflow of water. Plus, it is the best toilet fill valve for hard water.
Pros
Universal design that fits most of the toilets.
Helps optimize flush and fill performance.
Easy to install and use.
Fixes all problems of leakage.
5-year warranty.
Anti-siphon feature to prevent backflow of water.
Cons
The flapper ball sometimes sticks  to the chain.
---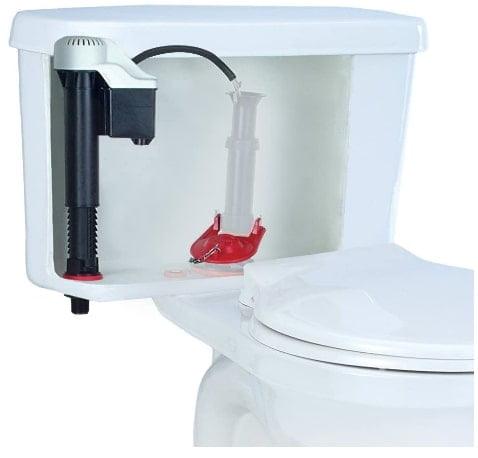 A noisy and leaky toilet is embarrassing you infront of your guests? Here is the kicker for you, Korky 818BP Quiet Fill Universal toilet fill valve is the best one to pick. This is the best toilet valve to install in the toilet next to your bedroom since it is lab tested for quietness. It is made in the US, which is a definite bonus. This toilet fill valve fits out in most KOHLER, American, and standard toilets. It can be adjusted to fit most 1-piece and 2-piece toilets.
The fill valve is made with reasonably high-quality components. After installing these components, you don't have to worry about repairs for a long time. Of course, you will get all the necessary components needed for installation. Plus, it is easy to install, and no tools are required.
The valve features a piece that catches sentiment, thus lengthening the life of your fill valve. You don't have to remove it to clean the tank. The rubber seal prevents leaking and will not get affected by the amount of chlorine in the water.
Pros
Universal design, Fits most 1-piece and 2-piece toilets.
Quiet performance.
Easy to install, no tools required.
Made in the USA.
5-year warranty.
Cons
The chain is not too long.
---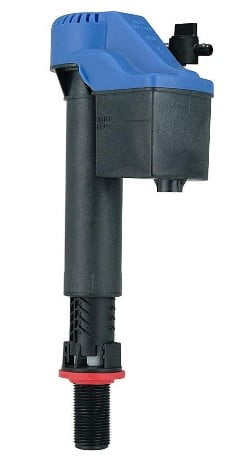 If you are looking for one of the best valves for solving issues of leaky toilets, then the TOTO TSU99A.X fill valve is an awesome one. It is specially made for TOTO flush tanks in mind, so it's not an ideal repair and maintenance part for other brands.
The TOTO fill valve is quite famous for its adjustable flow rate feature. If you have installed two piece-toilets, it will help to adjust the water flow rate the way you want. It has one of the best flushing mechanisms.
The valve is available in three different styles: traditional, transitional, and contemporary. So there's always a unit that will match the style of your toilet.
Pros
Self-generating Hydropower.
Eco-friendly.
Self-cleaning mechanism.
Adjustable Height.
Adjustable flow rate.
Durable build quality.
Cons
Tricky installation process.
---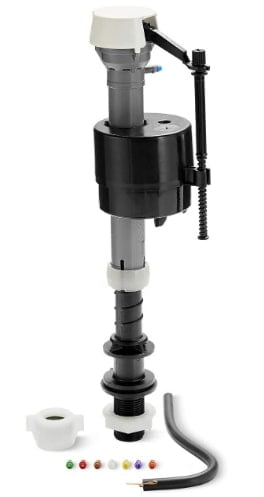 There are not many names that are stronger than KOHLER when it comes to fittings and other plumbing products. It is no wonder that KOHLER GP1138930 qualifies as the best universal toilet fill valve. It is a high-quality valve and fits most of the types of toilets.

It's a genuine innovation, both design, and performance. One unique thing about the KOHLER toilet fill valve is how well-built it is. It is made of heavy-duty plastics and sturdy rubber. The chemical resistant construction of this product ensures durability. It's a robust piece you can trust.

This toilet valve is very effortless to install. It comes with all the tools you need to install it in no time. It fills your toilet's tank faster than any other valve of its kind. It means no longer waiting for the next flush.

This fill valve lets you control the amount of water in the tank. Turn the adjustment screw clockwise to raise the float ball. The height to which the float ball reaches determines the maximum water level in the tank when filled.
Pros
Affordable price.
High-quality build.
Fills water quicker.
Easy to install.
Adjustable fill valve.
Cons
---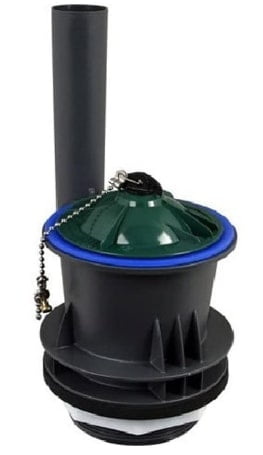 The American Standard 3174 Universal Champion Flush valve is an excellent combination of great looks and fantastic execution. It was designed to create a busy style more comfortable. We believe you are not using low quality fill valve, hence you should give this affordable product a go.

It is an excellent fill valve to fix your toilet issues permanently. You can depend on this to improve the performance of your toilet tank once it is installed.
The feature we tend to like most regarding this restroom flush valve is its easy installation. Even more, it comes with a universal height, meaning that it can be easily adjusted to fit any size and tank.

The universal compatibility of the product makes it a must-have. The product is an American Standard OEM replacement part, which means that it is legitimate.
Pros
It fits with various toilet tank models.
Quiet operation.
Universal height.
Easy to install within 10 minutes.
1-year warranty.
Cons
It's a bit more expensive than other valves.
---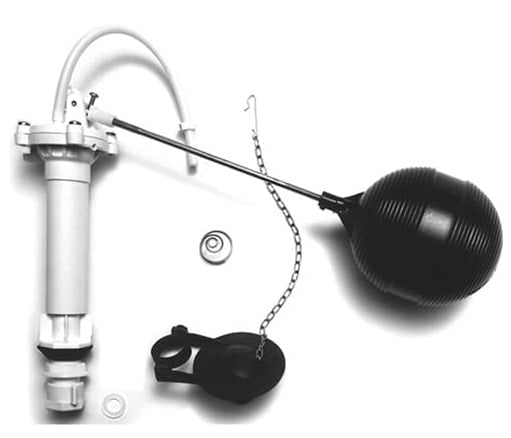 With incredible reliable performance and durable construction, The Danco 80816 universal toilet fill valve is considered by many, the best complete toilet repair kit. It features universal design and fits most toilet models, and brands and is an excellent kit for fixing multiple toilet problems.
It comes with a flapper, fill valve, rod, and float. This item does not cost very much, considering all of the components it comes with. The components are made with high-quality plastic and rubber to ensure they last long.
This toilet fill valve is a very easy-to-use toilet repair kit, as the whole thing can be installed using simple household tools. It also provides easy instructions so that you can repair your toilet tank with a DIY project. This item is designed for single flush applications, and this works for standard single-flush toilets.
Pros
Value for money.
Easy DIY installation.
Sturdy and durable build quality.
Universal design.
1-year warranty.
Cons
Only for single-flush applications.
---
Buying Guide
Are you losing your hairs looking for the best toilet fill valve? Purchasing the best toilet fill valve isn't really an easy task like going to the stores and simply pick up one. With the ocean of products available in the market, it's a bit of a tricky decision to make. Here we are going to discuss the most important things to consider before buying a toilet fill valve.
Types Of Toilet Repair Kits
The first thing you need to know is the types of fill valves available in the market. The type of toilet repair kit depends on which components you need to replace. Some of these repair kits come with just a flapper, just the fill valve, just the flush valve, gaskets, and bolts, or a combination of all of the above.

If you have an ancient model toilet, you are suggested to get the one that comes with all the components.
Durability
The toilet fill valve that you will be using should be made of sturdy and durable materials so that it can withstand the water pressure. Ideally, they should be resistant to corrosion to prevent rusting and weakening of the flush valve within just a few weeks.
Refill Rate
Installing a slow toilet fill valve will not give you an edge over the last one that you are replacing. Efficiency should be one of your top priorities when you are looking for a new toilet fill valve.

A fast refill rate will ensure that your water tank gets flushed with water faster. You will find the speed mentioned under specifications.
Easy Installation
In our busy lives, nobody has time to read up on valve installation and learn the process from scratch. The best toilet fill valve is easy to install, replace, and service. This is especially necessary for beginners.

Some of these valves don't even require tools to install, whereas others can be a bit difficult to work with. So it would be best if you look for the one that comes with all the essential components.
Noise elimination
A right toilet tank fill valve will do its job silently. There are lots of flush valves available that eliminate noise. Choose one of those, so you may no longer be disturbed by the constant sound made by your valve.
Water Conservation
Water is a precious natural resource, and you should do your part in trying to conserve it. There are some toilet fill valves that come with the guarantee of saving water and being more eco-friendly than its competitors.
Price and Warranty
Money is the central part when you are going to buy something. There us no doubt, expensive products will serve you better; it's not always necessary. Before purchasing any product, you should check that does the product fit your needs. Also, you should have a look at the after-sale service and warranty.
FAQ
Can I buy just any toilet repair kit?
No! While many fill valves are universal and will fit 99% of standard toilets, there are some toilet brands that will use different sizes in the holes. If you gave a standard 2-inch system, then you have more flexibility.
How long does a toilet fill valve last?
With proper installation and use, a toilet fill valve can last for around five to seven years. However, using harsh chemical cleaners will damage the valve and cut its lifespan in half or more.
Is it possible to repair a toilet fill valve?
Yes, it is possible, and you can do it yourself. It's not always necessary to call the professionals.
Depending on the problem, you can fix it within a while. But, if you're unsure of what to do, you can call a plumber.
How do I maintain a toilet fill valve?
To be fair, these are more or fewer maintenance kits, so they should not require much maintaining. At least not for a few years. There is not much to clean. Just check now and then to see that there are no leaks.
Can I repair my low fill toilet?
Yes, you can. Some kits are specifically designed for standard fill toilets, but there are certainly kits that can adjust as low as 1.6 or 1.8 gpf.
How to fix a Kohler toilet that keeps running

Conclusion:
Dealing with toilet fill valves may not be glamorous, but they are an essential part of our everyday routine. Replacing them can be a simple, cost-effective, and long-term money-saving investment.
So, before you throw out the whole toilet because of leaking, you might want to check if you can replace the fill valve to get your toilet as good as new.

While all of the candidates on our list are excellent, we must recommend the Fluidmaster 400CRP14 and TOTO TSU99A.X Universal Fill Valve above all else.
Buying guide will help you to pick the perfect toilet fill valve depends on your demands.
Happy Buying!