Last Updated on May 9, 2022 by Alexander A. Smith
In a world of expensive kitchen faucets, you forget to go through the features and potential of a product. As you spend most of your time in your kitchen, we are here to help you. We have come up to let you know about the kitchen faucets that are worth the hype!
There are hundreds of kitchen faucets in the market. We don't want you to choose the wrong product with your hard-earned money and regret. For your convenience, here, we have come up with the Kingstone Brass faucet reviews for the best four faucets.
All you need to do is skim through the top favorites of the users chosen by us and go through the buyer's guide. Then, you will be able to pick up the right deal for you.
Trust us, these faucets don't only worth the hype, but they are worth the money too! Why? Let us know!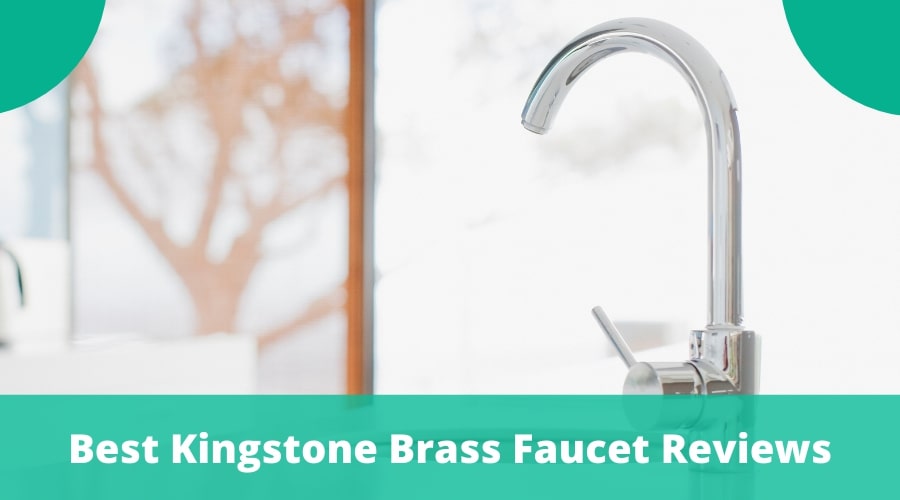 Comparison Table- Best Kingstone Kitchen Faucets
Top 4 Kingstone Kitchen Faucets Reviews and Compared
---
---
Key Features
Conventional kitchen faucet
Four-hole design
Less corrosion and leak
Available in several finishes
Swivel hook spout
10 years of warranty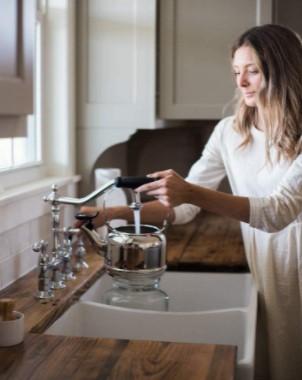 In the list of Kingstone Brass kitchen faucet reviews, you will always see this faucet on top. If you are fond of something solid, try this one. The construction of this faucet will surely make you amazed! People love brass construction when it comes to faucets because brass faucets are usually very high-quality. On the other hand, they are very sturdy. In terms of this faucet, the construction is made of solid brass. And so, you do not need to look back for service. It will easily afford you long-lasting service.
There is a disc cartridge added with this Kingstone brass faucet. The disc cartridge is made of ceramic to keep it durable. The ceramic disc cartridge is ¼ turn. On the other hand, it has the option for counter mounting. These 4 holes counter mounting faucet has 8 inches spread. The spout reach of this amazing faucet is ¾ inches. This is a bridge faucet. It means that the faucet and the levers of the faucets are connected. That gives the design a royal view! On the other hand, the finish ranges of this kitchen faucet are incredible too.
It has finishes like brass and chrome. For a little antique look, you can settle for the bronze finish. Also, the nickel finish will give you a combo of conventional and contemporary! Also, there are options to go for levers. If you don't like levers, settle for cross handles!
These faucets are less likely to catch corrosion. Also, leaks are less in this case. Even if you go for hard water use or minimal care, these faucets will last long. This faucet kit includes a side sprayer. If you are having a tough time cleaning the tough-to-reach places and the larger dishes, get this faucet.
It includes four different holes. The lever handle is made of metal. Also, it has a hook spout of swivel technology that can turn 360-degree. You get a 10-year warranty with this faucet because the brand affords quality. It comes with assembly instructions for your convenience.  It is made in a Victorian style and has nice round curves.
Key Features
Made of brass
Several finishes for faucet
2-hole faucet
Ceramic disc valve
Droplet-free function
Adjustable spread
Swiveling spout technology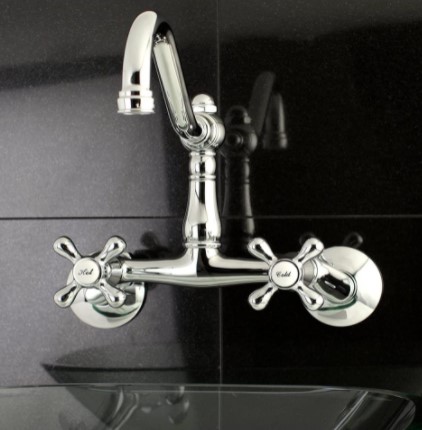 When you need a conventional kitchen faucet, it is better to try the Kingstone brand before any other brand. The reason behind this is they are PRO in terms of manufacturing unbelievable traditional kitchen faucets. This kitchen faucet is made in a conventional style. To be more précised, the design is called Victorian design. It is a 2-hole faucet for your kitchen.
When you don't like the one-hole faucet anymore in your kitchen, you can try this 2-hole faucet to change the game. Also, these are more affordable than the faucets four-hole faucets that are designed for the kitchens. This is a wall mount kitchen faucet. So, if you have a kitchen where you can mount the faucet on the wall, try this one. It will never disappoint you!
Just like the other kitchen faucets by Kingstone, this faucet has a disk cartridge. This is also made of ceramic so that it can afford you long-lasting service. The ceramic disk cartridge is about ¼ inches in turn.
The maximum water flow rate of this faucet is 1.8gm. The center to center measurements is 3 ½ inches to 8 ½ inches. The spout reach from the wall of your kitchen will be 11-¾ inches. This faucet belongs to the classic vintage collection by the brand. This collection includes all the Old World styled faucets for you! If you go through the Kingston Brass Bathroom faucet reviews, you can see most of these faucets are loved by people!
There are several finishes on this faucet. You can get this kit in polished brass or polished chrome Also, you will be able to match the kitchen with the matte black design. The vintage brass and the polished nickel can make your kitchen look better. If you are eying for something different, settle for oil-rubbed bronze or brushed nickel. Satin brass can also be your option here!
As these are polished finishes, there will be fewer scratches and less corrosion. The spout of the faucet can rotate 30-degree. It has a droplet-free function because of the ceramic disc valve it owns.
Key Features
Constructed with brass.
Four-hole faucet.
Total four finishes.
Ceramic disc cartridge.
Victorian spout
Brass sprayer with lever bodies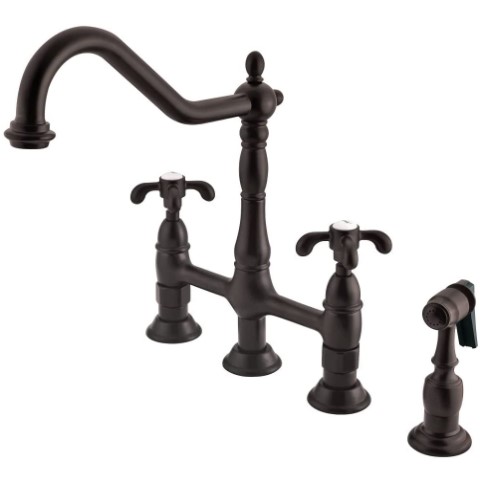 We don't know why it is named after the French Country faucet, but the design reminds us of the Victorian period. Yes, when it comes to kitchen faucets, no other construction material can be as strong as brass. This kitchen faucet is also made of brass. The high-quality brass ensured an enduring journey.
This is a four-hole kitchen faucet. So, if you have a large kitchen, it will suit you best for your place. Don't add this if you have a small kitchen because it is a little large. It includes 2 different holes for water. Along with this, it comes with a Victorian spout. The spout that is included in the package is 8 ¾ inches in size. On the contrary, the spout clearance is about 10 inches.
The highest water flow that this faucet can afford you is 1.8 GPM. Most of the kitchen faucet by this brand comes with a disc cartridge. So, this one also comes with a disc cartridge. It is made of ceramic and is ¼ turn. It has a bridge design so that it looks traditional and feels traditional.
It has cross-handle levers for turning the water on and off. There are also several hook-shaped spouts added. This is a center-set kitchen faucet that is 8 inches. Along with the spouts, the kit includes a brass sprayer. Two lever bodies are curved cleverly. A long neckpiece is added for the interconnection between these two-lever bodies. There is also a little tint of European glamour.
You will get this brass kitchen faucet in four different finishes. You can get the chrome finishes to the brass finish. Both of these finishes are polished and so, there is less chance of corrosion. Also, to match your kitchen, it has its oil-rubbed bronze version. If you want to keep it simple, go for the brushed nickel one.
Key Features
Contemporary faucet design
Made of brass
Several faucet finishes
Ceramic disk cartridge
Single-handle design
Water flow and temperature control
Compact in design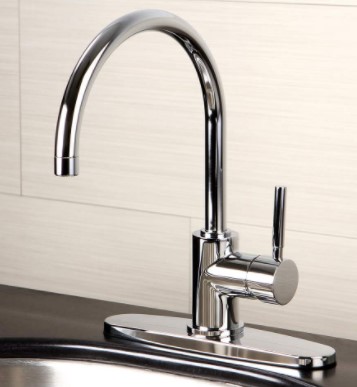 People that were tired of the traditional and conventional brass kitchen faucets, this faucet is made for you! Yes, if you don't have a conventional kitchen design or you want something very sophisticated to go with the contemporary kitchen, vote for this one! This is a one-handle faucet for your modern kitchen.
As usual, this kitchen faucet is made of high-quality brass. Along with this, there is a disk cartridge added to the whole kit. It is made of ceramic to afford your droplet-free action. Also, if you don't get the flexible movements in your previous faucet, you can get your hands on this baby. This faucet is capable of affording flexible movements.
The maximum water flow rate of this modern kitchen faucet is 1.8 GPM. On the contrary, the spout is of 8-½ inches. The spout clearance of this faucet is about 7-7/8inches. If you are worried about the single handle and think that this cannot do all the work, you are wrong. The single-handle kitchen faucet can easily control the water pressure along with the water temperature.
The best part is this kitchen faucet is compact in design. It can easily fit in your kitchen and afford you better performance than your previous faucet. You can also get the finish that compliments your contemporary kitchen perfectly. It is available in the polished brass finish along with nickel finish. Also, chrome is an option you can settle for. If you have a little traditional design but still want a contemporary faucet go for bronze.
As it has a solid brass construction, you can rely on its durability. Go for minimal care of hard water use, it will never disappoint you. This kitchen faucet comes with a side sprayer and you can go for one-touch operation with it. It has a 1-1/2 inches height and so, it will fit any kitchen counterpart.
This sleek-looking faucet is resistant to any sort of corrosion. Also, there is no tarnishing at all! There is a single-hand lever added. You can flexibly move it and control the water volume. The water temperature can also be controlled with this!
Buying Guide for Kingstone Faucets
Your money deserves something better. And so, we will never let you waste the earned bucks in a complete failure.
So, to help you pin picking up the right faucet for your kitchen, we have created a buying guide. Here, you will know what to consider before buying a Kingstone faucet for your home!
Faucet Holes
The holes of the kitchen faucets are very vital when it comes to picking up kitchen faucets. We all don't have the same sized kitchen. Also, we don't have the same likings. When you are dealing with the faucets, the holes are not only necessary for the water flow but for the outlook too.
Go for the single-hole faucets if you want a compact faucet. Compact faucets are great for a small kitchen. If you have a large kitchen or you want to have different holes for different water temperatures, go for faucets that have more than one hole. Two-hole faucets are for temperature control of the water. You can get more than two holes if you require a sprayer and other necessary stuff.
Faucet Handles
Faucets usually include one handle. But some faucets include more than one handles so that they can easily control the temperature. However, you cannot forget the size of your kitchen in this case. If your kitchen is small, go for single-handle faucets. You can settle for anyone if you have a larger kitchen. Also, if you want the super compact size, pick up the hands-free faucets that are very easy to use!
Finishes
When it comes to brass kitchen faucets, you have to be very careful about the faucet finish. Not every finish will go right with your kitchen. So, take a look at your kitchen and the other details of your kitchen. You will find the kitchen faucets by Kingstone in polished chrome and polished nickel.
On the other hand, you will also find faucets in matte black and bronze. The oil rubbed bronze and the satin brass are also available in different finishes. Brushed nickel is also an option in this case. Be careful while selecting the kitchen faucet finish as the outlook is very important.
Installation
If you are alone, you might want to install the faucet by yourself. There are top-mount faucets available and there are also bottom-mount faucets on the market. The wall mount faucets are the most popular in conventional homes. Go for the one that has an easy installation process. The faucet mechanisms available are cartridge, ceramic disc, compression valve, and ball valve. Most of the Kingstone faucets are of ceramic disk cartridges. It ensures easy movement of the spout.
Use of Sink
Right before you select the perfect Kingstone brass kitchen faucet for you, hold on; and think for some time. People use kitchen faucets for several reasons. Either they use it for simple hand wash or for cleaning regular dishes.
There are also kitchen faucets that are designed for heavy-duty kitchen work. So, before you pick up any from the list, you have to know what you are going to do in your sink. Know what you need the faucet for and then deice which faucet you need.
FAQs
Is Kingstone Brass a good faucet?
There are only a few people that search for perfect faucets for their kitchen and don't know about Kingstone. Yes, Kingstone Brass kitchen faucets are well known in the market for their incredible performance. The performances they afford along with the durability are amazing. Also, you will get a variety of products manufactures by them! From conventional to contemporary, single-handle to double handle, one-hole to four-holes, the faucets they make can be the best ones you have used so far!
What is a good water flow rate for a kitchen faucet?
The standard water flow rate of the regular kitchen faucets is 2.2 gallons per minute. However, the faucets that are usually manufactured these days include aerators. And for this reason, the flow of the water is increasing day by day. The restrictive flow of these days when it comes to faucets is about 5 gallons per minute.
Why does my kitchen faucet have low pressure?
When you install the faucet in your kitchen, it runs smoothly. However, in the long run, you will see low pressure of water in your kitchen faucet. There are reasons behind low water flow from your kitchen faucet.
The basic reason behind this is the blocked aerator. If the faucet aerator is blocked, the water pressure will be low. The other reason for low water flow from the kitchen faucet is the clogged cartridge. All you need to do is a cleanup and then, your kitchen faucet will be the same as before.
How to Install a Wall-Mount Faucet
Wrap Up
So, now you already know everything about the Kingstone brass faucets for the kitchen. All you have to do is go through the Kingstone Brass Faucet reviews we have mentioned above and select one from the list. Before picking up, don't forget to read the buyer's guide to make the right choice. Use it and let us know in the comment box about your experience regarding the kitchen faucet you have chosen from the list. These faucets will never disappoint you and neither will we.