As an Amazon Associate, I earn from qualifying purchases.
Last Updated on August 3, 2021 by Bonnie C. Welling
An effective waterproofing system depends on the performance of a sump pump.
A properly operated sump pump is efficient enough in removing water from the crawlspace, low areas or basement, especially during wet weather. But a sump pump can show inefficient and improper performance if it gets clogged.
You can get rid of the sump pump clogged with sediment problems with periodic maintenance of the system. Annual checkups and maintenance are mandatory to get the best performance from the sump pump.
Let's learn the basic checks and maintenance procedure of the sump pump from below.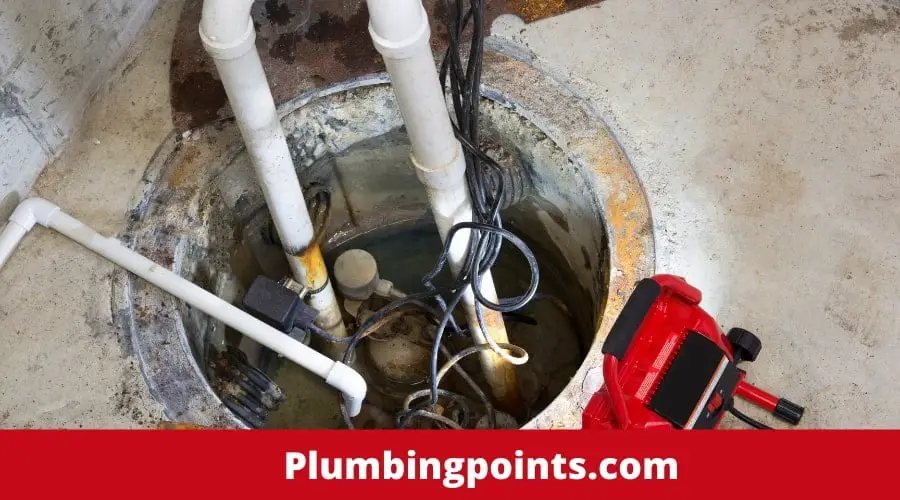 Sump Pump Troubleshooting
Don't wait to do maintenance of your sump pump until you see a wet basement. The situation may become out of control if you don't do maintenance at the right time.
Below are a few common sump pump problems with solutions.
Corrosion
Generally, sump pumps are made with cast iron. Characteristically, cast iron is robust, stable, and heat-dissipator. Unfortunately, it doesn't show rust-resistant characteristics when it comes in contact with saltwater. Sump pump corrosion may happen where saltwater infiltration is possible.
Solution
Do annual maintenance of the sump pump.
Any corroded components need to be replaced without delay.
The functionality of the Perimeter Drain
Most of the sump pumps work following the same working procedure. Every sump pump has a drain system installed in it to collect the incorporated water. Some sump pumps are designed with an internal inspection system that reduces the sump pump clogged with sediment problem. In addition to inspecting a sump pump, the drain system should also be inspected to ensure that no blocked drain is obstructing the water flow in the sump pit.
Solution
Consider cleaning the sump pump without delay if you detect any clog during the inspection.
Rubbish and Sediment
Water that flows through the drainage lines to the sump pit also carries rubbish and sediment. In fact, it will not create any instant problem because sump pumps are usually developed above the bottom of the sump pit or sump basin.
Paper, toys, stones or any other objects can fall into an open sump pit, and it has to be checked without fail. This type of debris can block the sump pit.
Solution
If any presence of a thick deposit is found during the inspection, it should be removed immediately.
The functionality of Multiple Pump
With the help of a single sump pump, the sump pump system removes water from a crawlspace. However, experts of basement waterproofing recommended installing multiple pump system so that your waterproofing system can withstand if water volume and power gets high.
The standard sump pump system comes with a primary sump pump system that can efficiently handle average water volume. And a secondary pump system is working when the primary system fails to remove water from the basement or malfunction due to high pumping requirements. Then a battery-powered sump pump system performs in the power outage time.
To avoid any clogging problem of the standard sump pump system, you should ensure the below solution is taken.
Solution
Make sure to do a test run of all the multiple sump pump systems annually.
Some sump pump comes with a breathing hole in it to protect it from the formation of air pockets. It must be inspected and cleaned to keep the breathing hole away from any blockage.
Check Valve Functionality
The extended drain line from the sump pump up to the building outdoor must contain a 1-way valve known as a check valve. The responsibility of the check valve is to block drainage water flowing backwards to the sump pit. When this valve stops working, the sump pit gets blocked, and it can't remove water from the basement.
Solution
A periodic inspection of the check valve will help you to get rid of the problem.
Battery Charge
The battery-powered sump pump's popularity is on increasing level because of its great service during a power outage in a severe storm. Generally, a premium quality battery-powered sump pump provides 3 – 5 years of service without any malfunction. Many homeowners install a 2nd battery backup in order to extend the sump pump run time in case of an extended power outage.
However, the battery may stop working if it is out of charge.
Solution
The battery charger needs to be checked. Inspect the trickle charger functionality too, which is also a part of the system.
Replace the battery when it can't hold the charge for an extended period.
Malfunctions of Different Parts due to Incorrect Installation
Every sump pump needs to be installed correctly. During the installation process, the instruction manual should be followed meticulously. Otherwise, severe damage may happen. It would be best if you install your sump pump system in your basement, taking assistance from a professional.
Solution
While installing, every part of the sump pump needs to be placed following the right order and instruction.
Frequently Asked Question
Can vinegar remove the sump pump clogged with sediment problem?
Yes, vinegar can be a good option to unclog any sump pump clogging problem. Make a solution of vinegar and warm water, pour it into the sump pit and then give it a rest for the next 10 – 15 minutes. Flush the solution, and all sediment will be cleared.
How often do I need to inspect and clean my sump pump?
Maintenance of a sump pump clogged with sediment is not a challenging task. All you need to do is, ensure periodic inspection and cleaning. An efficient sump pump will protect your house from getting damaged due to overflowing water.
Cleaning and maintenance of the sump pump will let you save a lot of money. Don't be late to take the right precautions at the right time. Your property and life will be saved.