Last Updated on August 25, 2021 by Bonnie C. Welling
When it comes to figuring out how to hide sump pump discharge pipes, there are certain ways and rules you should be aware of. For example, one of the most well-followed sump pump discharge rules is to keep the very end of the pipe away from the lot line, for at least 5 feet. Now of course you don't want the pipes to be visible, because aesthetics are important. And today, we will be focusing on that mainly. Keep On Reading…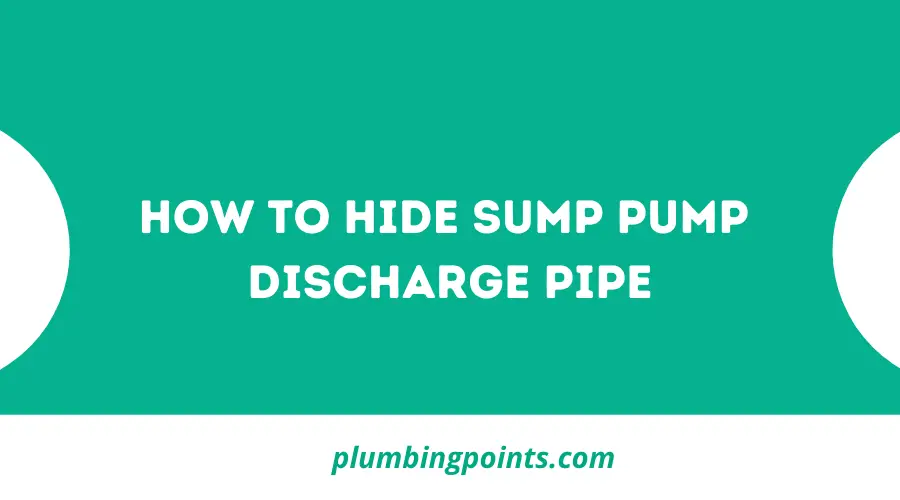 How to Hide Sump Pump Discharge Pipe the Right Way.
Are you okay with a little bit of digit? Then simply let it go underground. Make sure it travels a substantial length and the discharge should be as far as possible from your residential place.
Some have natural decline and simply allow the side of the lawn coming out outlook. Of course, the lawn should be pretty slope. But then again, the underground formula will allow you chose from multiple ways without much effort. Draining it too close to the house still comes with the risk of unwanted water issues, and you should try to avoid it.
Most probably, you have an exterior poking-out discharge pipe already at your house. Or else simply get the sump pump discharger routing done by an expert soon. There's drilling that needs to be done.
Here's What You Need to Do Next.
The male pipe adapter needs to be fixed with the pipe through glue and then place it inside the female adapter that should be coming from discharger. There must be a huge pipe bit sticking out. 1.25- or 1.5-inch diameters are commonly working with most pipes.
You need to drill a weep hole that keeps bursts aside, simply drill one that's quarter-inch right 6 inches above the pipe. You can skip doing so if there's already one or maybe the discharge is outside.
Install the check valve after making a weep hole with a hacksaw. Then make the rubber baring stick tightly with pipe using a screwdriver. A discharger that has a check valve, won't need it. simply make a 90-degree angle then. For the twist, PVC pipes that are flexible that work as well.
Make a deep trench using a shovel for the route. The depth will help in hiding the pipe seamlessly. Be very careful to not end up digging gas lines. Then fix the discharge to route as well as extra PVC pipes. The water flow should be steering away from your place. PVC cement is a great glue for attaching. The 90-degree bent joint is where you start. Get rid of pipes with a hacksaw that you don't want. The discharger should be close to the ground.
Use dirt to cover the trenches once the sump pump pipe is settled. Sod laying also helps in case you have tough issues with the lawn.
Some Really Working Sump Pump Discharge Ideas You Should Know About!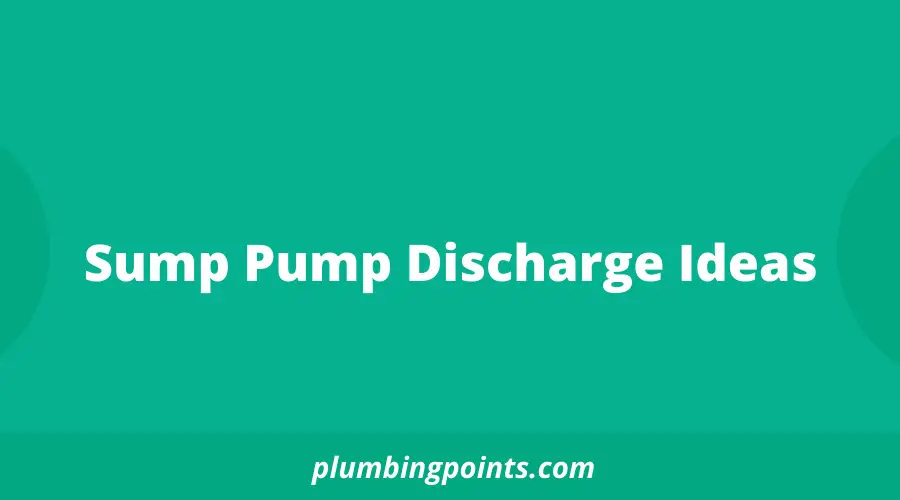 Keeping the pipe's endpoint less than 10-20 feet will make the soil closer to your foundation absorb the discharged water. And that can make things damp, and eventually damaged to collapse. So proper positioning of the pipe's endpoint is critical.
The specific tank is in charge of handling water overload. So, if you keep it closer to the location of discharge, there's a chance of water overflowing on the surface top. And that's can make things horrible.
Having a sewage line close to the discharge line is another thing you should avoid. Or else there's a chance of finding a mess as well as sewage flood risks. Most cities don't allow it legally and if you follow the local codes, it's hardly going to happen but we still want to keep you noted.
A PVC pipe should be the main discharge line and it must connect with a tube or hose. If the connection is somewhat not done properly, there're tons of issues that could be occurring. One is water leakage and flowing to the home foundation. You also want to ensure anti-freezing materials are used to make this main pipe. Or get ready to experience clogs during winter.
It could mean spending a bit more, but still, consider having an extra drainage system. Especially if you have walls that would go under the ground.
Frequently Asked Questions 
What Does a Sump Pump Do?
Sending water farther away from your residential place is what a sump pump does. It basically transfers all the mess to a less problem-causing spot. And that's usually a dry well or even city storm drain.
How Long Does a Pedestal Pump Last?
This one is a popular type of sump pump. And because this type is easier to repair and maintain, the thing should last you typically a long time. In most cases, you would have a pedestal pump going fine for up to 30 years.
How Often Should a Sump Pump Run?
The sump pump follows a pattern funning periodically. As soon as there's water gathering beneath your foundation, the unit would work to make it flow towards the sump out. If you basically live in a place that's beneath the water table or maybe a floodplain, then this is frequent. The sump pump works extra during a serious storm and maybe heavy rain. In winter, if there's heavy snowfall, then the sump pump remains quite busy dealing with the melted ice and snow during the spring.
Read More: Best Water Pump for 5.9 Cummins Engine
Overall Thoughts 
So that was our thoughts on how to hide sump pump discharge pipe plus a few ideas that will make it more useful as a guide. You can now probably get an idea of what to do next with the discharge pipe and make it hide. Good Luck on That!