As an Amazon Associate, I earn from qualifying purchases.
Last Updated on February 15, 2022 by Bonnie C. Welling
Days are gone; people were used oil drain plugs to change the oil of their vehicles. But due to the most innovative invention of the oil drain valve, oil drain plugs lost its appeal among users.
Oil changing is one of the most significant operations that a vehicle owner possesses. You will end up with dirty hands and oil spills if you follow the traditional oil changing process.
Fortunately, things have changed a lot and thanks to the EZ oil drain valve. With the help of the EZ oil drain valve, you can easily and quickly change your vehicle's oil.
And that is why people look for the best EZ oil drain valve.
Because of its increasing popularity, I extended a helping hand to you here. This article is all about the EZ oil drain valve review. Just follow the tail, your value of time is promised.
5 Top EZ Oil Drain Valve – Comparison Table
Top 5 Best EZ Oil Drain Valve Review
---
Out of many oil drain valve companies, EZ is the most popular one. From the starting of their journey in the oil drain valve industry, they never compromise on the quality. And that is why they are now one of the top manufacturers.
So let's get down to business.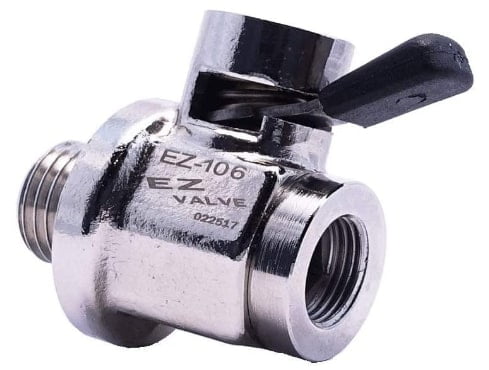 Are you sick and tired of finding a heavy-duty oil drain valve? Well, your search will come to an end with the EZ-106 Silver 14mm Oil Drain Valve. With its all impressive features, this oil drain valve can meet the requirements of heavy-duty vehicles.
The construction material is of high quality in the valve that makes it much durable. Let me clarify; it is made of steel and heavy treated brass to ensure longevity. Moreover, the item becomes free from all sorts of rust and corrode. That is why simply say bye-bye to your worries because you will never experience corrosion or rust issues with this item.
It will satisfy you with its installation and operational process as well. The item will not allow you to undergo a messy oil changing session. Offering no burned hands, frozen plugs is its promise towards the customers.
One of the most impressive features of the item is optional hose ends. You can screw up the hose ends into the valve, and the oil will get drained without making any trouble. Also, you can rotate the hose ends up to 360°. The hose end is easily removable after the oil change process and replaceable as well.
Pros
Rust-resistant construction.
Straightforward installation and operation process.
Single-touch operation.
Efficient and satisfying performance.
Cons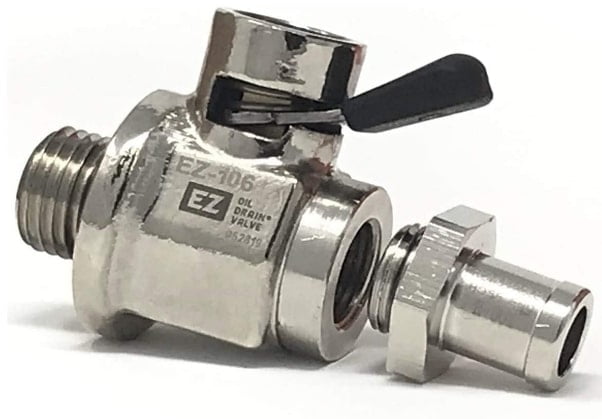 The EZ-106 EZ Oil Drain Valve with Removable Hose End Combo is another oil drain valve that comes with excellent quality and performance. Although it is our 2nd pick, it is not far behind the top pick item in terms of features.
The product name itself is giving you the idea that its best feature is a removable hose-end combo. No clearance issue will be there due to this feature. Moreover, after accomplishing the oil changing process, you will not get messy hands. Additionally, after the installation process, you will never experience a dirty and oily floor
It is robustly built and sings the song of durability. The nickel-plated body ensures no tarnishing. And it is not unaware nickel-plated fights tarnish with iron fists. The body is forged brass and stainless steel made so that no corrosion will be there. However, one feature that I can't resist myself to let you know, it is available with a one-touch operation feature.
The most important feature is that after installing the valve, you don't need to take any assistance from any tool to drain engine oil quickly. The hard brass ball valve lever needs to be lifted and twist it to a quarter turn; then, the engine oil will drain automatically. Then it will get locked and sealed correctly, once you return the lever to its actual place.
Pros
The better seal is confirmed by O-ring.
Oil drain valve size: 14mm – 1.5 thread.
No messy installation process.
Efficient in saving time.
Cons
The hose size is imperfect.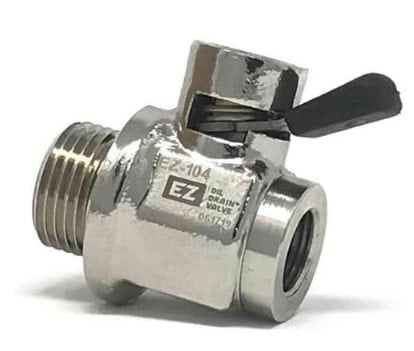 Looking for a universal oil drain valve? Look no further and purchase the EZ Oil Drain Valve EZ-104 Drain Plug Size M18 – 1.5 because it is compatible with a wide range of car engines and applications. All features of this valve will meet your requirement that you will never look for any other manufacturer's oil drain valve.
Oil drain valves are prone to create a mess. But you will never experience messy operation with it for sure. You will not face any trouble while installing the valve. Simply turn off your running valve, and install the EZ Oil Drain Valve EZ-104 Drain Plug. You will be wondered to learn; no tools will be required to install the valve. Even you will experience a trouble-free operation with the unit.
It comes with a nickel-plated brass ball valve. By lifting the lever of the valve, you can start working with it. But before that, you have to give a quarter turn to open it. And after completing oil draining, simply place the lever to its original position, and it will be closed. Isn't the operating procedure so simple? Surprisingly, the floor, your hands, and clothes are not looking messy, isn't it?
You can replace your current oil plugs without thinking twice because the unit will deliver excellent performance to save valuable time and money. Since it is made of highly durable material, you will get long term service from it. And it focuses on eliminating stripped threads. With so many superb features, you will never regret purchasing this EZ oil drain valve.
Pros
Effortless operation.
Hassle-free installation.
Robust construction.
Compatible with a variety of types of car engines.
Cons
No significant options required.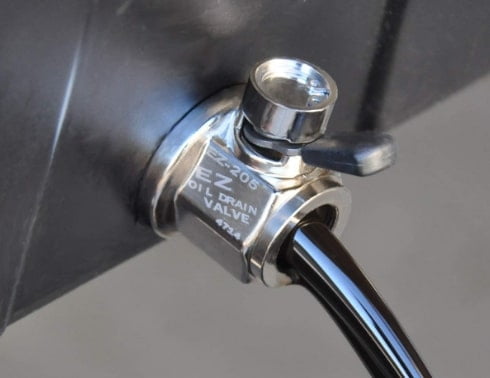 When you are sweating your forehead searching for the best oil drain valve, you will find a clump of products in the market that will make your task more daunting than before. In this case, the EZ-103 Silver 12mm – 1.25 Thread Size Oil Drain Valve will help you get rid of this trouble.

In terms of performance, this valve is impressively efficient and gained popularity within a short time. The size is perfect, 12mm – 1.25 thread. You will barely find a valve that is preventing tarnishes effectively. And most importantly, using any socket is unnecessary while installing the oil valve in your vehicle. You just can't resist yourself to fall in love with the item because of it all stunning features.  

The operating process is so easy that you just can relax without any worry. Since the installation process is easy, you will never undergo a messy situation while installing, replacing, and draining oil using the valve. It is promised to provide a dirt-free oil changing process. And the valve will never show any leakage which is singing the song of long life.

If you ask me about its construction, it will get a 5 out of 5 marks because it is built of silver. It can withstand any kind of corrosion and rust that makes it one of the best durable products. No doubt, it will be a perfect addition to your vehicle.
Pros
Save valuable time and money.
Long term service.
Perfectly sized oil drain valve.
It comes with an O-ring.
Cons
Slow oil draining process.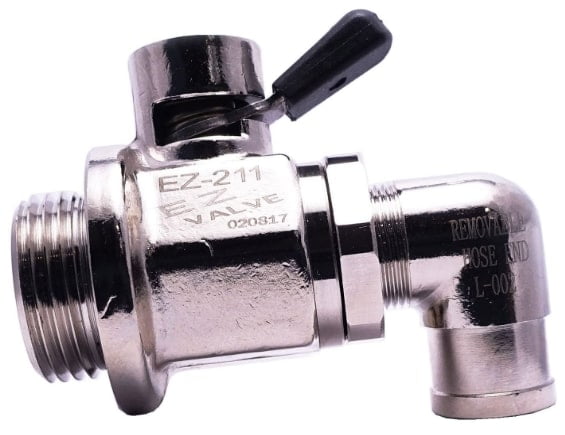 It will be an injustice to the EZ-211 Removable L-shape Hose End Combo Oil Drain Valve if I don't keep it in the top 5 oil drain valve list. Because its performance is so excellent that you will think yourself blissful. It is available with many innovative features to fulfill your needs.
First of all, I would like to let you know about its L-shaped and removable hose. As a result, you can drain oil to your required container or pan without any problem. You may wonder, thinking how come this oil drain valve has become one of the best valve surfing in the market? You will not find any other valve that will give you precise adjusting of the flow at an acceptable level similar to this unit.
It will never show you a lack of performance while draining water. The most notable feature is that you don't need any tools at the time of installing the item. It never compromises on well-organized drainage and an ideal seal when it is locked.
Overall, it is an excellent product of all characteristics. No other alternatives are available except this EZ-211 Removable L-shape Hose End Combo Oil Drain Valve when looking for a quick and fast drain oil valve.
Pros
L-shaped removable hose.
Premium quality material.
Significantly sealed that prevents leakage.
Free from rust and corrode.
Cons
It doesn't require any improvement since it is perfect for all features.
---
Buying Guide – How to Pick the Best EZ Oil Drain Valve?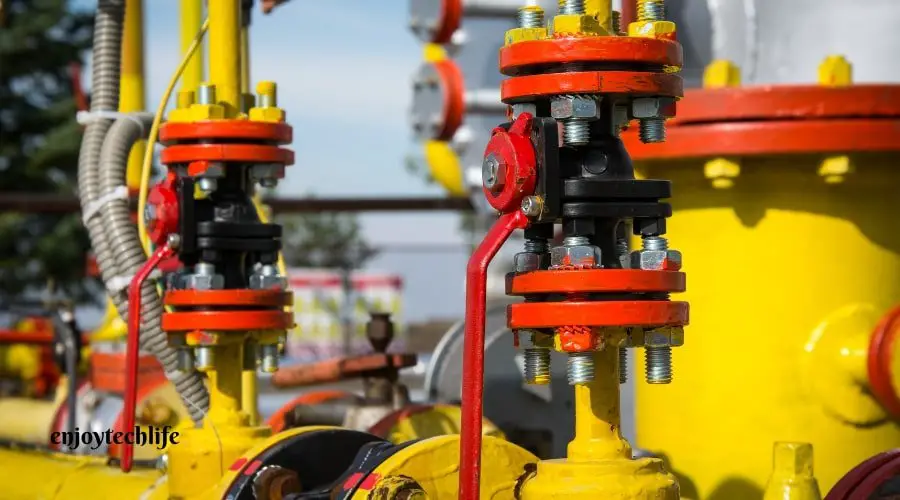 As you have already gone through the EZ oil valve review section, how will you determine the best product while purchasing?
The best performer is required for the well-being of your vehicle's health.

Read the below consideration that will assist you in picking the best item from the market.
Convenient Using
The best oil drain valve should give you a trouble-free installation and operation process.
If your selected item is giving your hassle, then it is not the best item, undoubtedly. All the above reviewed EZ drain valves are delivering a one-touch operation and easy draining system.

It would be best if you read online reviews before purchasing the best oil drain valve. This way, you will get an idea of using the item.
Prevention from Oil Leakage
Do you know where you need to place an oil drain valve in your vehicle? You need to pace it either underneath or side of the oil container.

It means the primary responsibility of an oil drain valve is to prevent oil leakage when your vehicle is in working mode. A tight and secure seal means you are safe when driving vehicles to your home or required destination.

If you notice, the vehicle oil level is decreasing drastically, be sure your vehicle oil drain valve gets leaked or old. Then it is high to replace it with the best product that doesn't get leaked even if it gets old.
Quality Materials
In recent times, oil drain valves are made of quality materials. The most usable material is stainless steel. We all know stainless steel is a durable material and provides a prolonged period of service. Also, it is free of rust and corrodes.

So, your selected item has to be engineered using stainless steel. You must not purchase any other material made oil drain valve to avoid any sort of quality-related issue.
Proper Specification with Size
Do you want to be enlisted as a customer who ordered the wrong size oil drain valve at the ordering stage and are now asking to return the item?

It is significantly essential to learn the required size and specification of the oil drain valve. If you are unaware of the size and specification, don't place the order.

Now the question is, how will you know about the size and specification?
Ask experts, and they will let you know your car requirement.
---
EZ Oil Drain Valve Installation
Sum Up
The fact is, the oil draining process is not a complicated task. We make it complicated by choosing a wrong and incorrect product. And end up with a mess.

Hopefully, the above EZ oil drain valve review section will help you pick the right valve to make your oil draining procedure much comfortable.