As an Amazon Associate, I earn from qualifying purchases.
Last Updated on February 21, 2022 by Alexander A. Smith
It's almost impossible to find a toilet that has no defective record at least once. No matter how perfect the toilet is, it'll inevitably cause some faults and require replacement or getting a new one.
So, if you own a toilet, it means you inevitably face such problems at least once in your lifetime. Such problems will tempt you do apply several ideas and solutions. Some people find solutions in asking plumber to repair the faulty toilet while some change the toilet even.
However, if you have a valve replacement kit you can do it yourself. We discovered the best toilet valve replacement kit in this regard, so you can avoid hiring a plumber and waste money.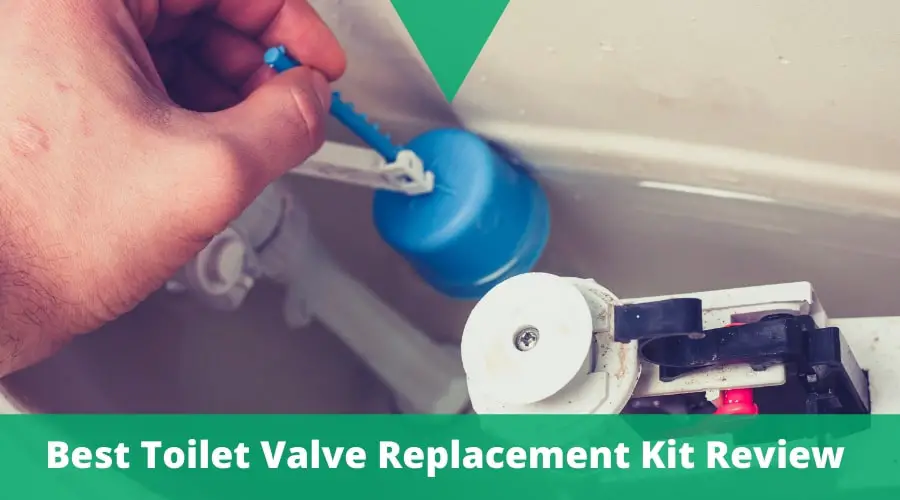 Our Recommended Top 5
Before we jump into the full review, let's have a quick summary of our recommended top 5 in the list.
Best Overall: Fluidmaster 400CRP14 Universal Toilet Fill Valve
Cheaper price range, 5 years of warranty, economical in water consumption and durable built quality with excellent performance at best.
Best Value: Danco 80816 Complete Toilet Repair Kit Fill Valve
Reasonable price, universal fitting that works for almost all toilet models, wisely manufactured for DIY.
Best Budget: Kohler Genuine Part Gp1083167 Silent Fill Valve Kit
Silent filling, multiple fill-rate inserts, adjustable to any height suitably, low consumption of water as well.
Best for Water Usage: Next by DancoHYR460: HyrdroRight Universal Kit
Water saving kit, ideal for dual-flush and easy to install universal replacement kit.
Top-rated Kit: Amazon Basics AB-T106 Universal Toilet Fill Flapper Repair Kit
Universal kit, reliable manufacturer, reasonable price,  
Top 5 Toilet Replacement Valve Kit– Comparison Table with Updated Price
Top 5 Best Toilet Replacement Valve Kit
After going through the quick summary above, now you might get trapped with our recommendations and wonder which one you should buy for your toilet within your budget. Let us help you with our review so that you can decide wisely the best one for your business.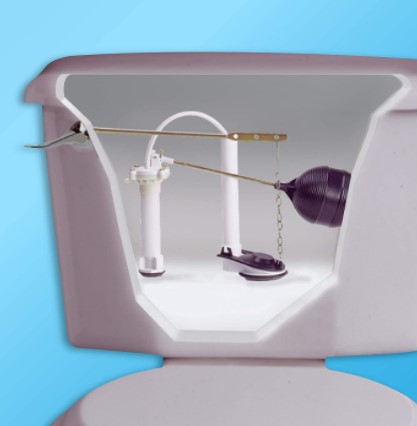 Product Specifications
| | |
| --- | --- |
| Full kit: | Yes |
| Product Dimension: | 4 x 7.4 x 13 inches; 11.68 Ounces |
| Brand: | Danco |
| Toilet type: | Universal |
| Fill valve included: | Yes |
Our first replacement kit is taken from Danco, one of the major home improvement industries majoring plumbing tools with enormous experience and reputation on DIY plumbing tools for years. With Danco 80816 Complete Toilet Repair Kit Fill Valve, you're getting the best solution at your hands for your leaky toilet.
It comes with a complete pack of solutions to take your toilet back to full operation boosting performance. If you like to do-it-yourself, Danco 80816 is the first recommendation as the mechanism and installing process is simple.
The dimension of the fill valve is the most enticing feature. With its 8.5 inches long fill valve from the bottom of the tank, it can offer the most effective operation for great flush. The ball rod is made of brass with 7.75 length with 5.5 floating capacity during flush.
Moreover, installation process will convince you to purchase this kit as it is way simple and requires almost nothing but some simple household tools – such as a wrench and a screwdriver. So, it's a best option if you like to DIY and save money.
Moreover, its durability will leave you stunned. The plastic and rubber mechanism will continue for last while giving optimal performance readily. The only restriction of this kit that the kit is designed for single flush toilet replacement.
Pros:
Durable
Saves water
Universal kit
Easy to install
Best for single-flush toilet
Cons
User manual are comprehensive
Takes time to adjust the float level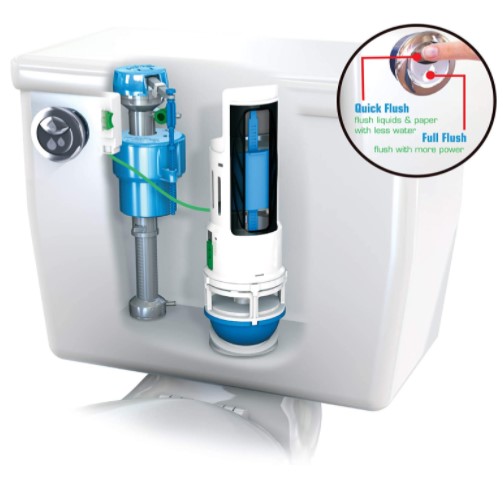 Product Specifications
| | |
| --- | --- |
| Full kit: | Yes |
| Product Dimension: | 7.2 x 3.5 x 12.6 inches |
| Brand: | Next by Danco |
| Toilet type: | Universal |
| Fill valve included: | Yes |
If you look for a replacement kit for the dual-flush toilet, let us tell you about the Next by Danco HYR460 Lever Handle Replacement Water-Saving Toilet Repair Kit. This HyrdroRight universal water-saving toilet repair kit is brilliantly designed for bare-hand installation keeping excellent water-saving capacity in the core.
You can do DIY while you prevent wastage of water. So, you can assemble it into any tank with a 10-inch clearance and taller. Danco HYR460 comes with an economical flush system. If you manage to access it, you can save up to 70% water with its dual-flush mechanism.
Featuring the soft flush mechanism, HYR460 masters to minimize the amount of water around 16000 gallons. Furthermore, it lets you get another way out to prevent wastage of water coming into the water tank empowering the soft flush machinery. Thanks to its brilliant mechanism.
It comes with a simple user manual that makes repairing and using the kit super easy. HYR460 has no flapper and chain, therefore, it adds further durability and longevity to the kit. Another enticing feature of this kit is its convertibility. You can switch to a modern dual-flush toilet from the standard mode just by spending a little.
Pros
Water saving kit
Best for dual-flush
Easy to install
Universal
Greatly adjustable
Cons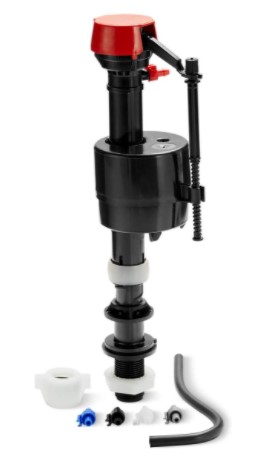 Product Specifications
| | |
| --- | --- |
| Full kit: | Yes |
| Product Dimension: | 17 x 5 x 3.5 inches |
| Brand: | Kohler |
| Toilet type: | Universal |
| Fill valve included: | Yes |
With 150 years of immense reputation, Kohler has been the most recognized plumbing tools manufacturers in Canada and in the USA and this is what hit the list of the best toilet replacement valve kit review.
They produce top-notch yet affordable products since the beginning. Kohler Genuine Part Gp1083167 is the smart way out if the existing fill valve doesn't work well. Moreover, it is engineered to replace easily with just a few parts. The super flexibility will allow you to accommodate any height conveniently.
The most attractive feature of the kit is the silent filling capacity. It refills quickly making so sound letting you stay calm. Along with that, its multiple fill-rate inserts will get you optimized performance, as well as low water consumption, flush each time.
Installing the toilet valve can take roughly 10 minutes. The simplicity of the Kohler Genuine part makes it possible. You can even replace the valve without disconnecting the water supply.
Furthermore, the adjustable fill rate will let you get the flexibility just by attaching several inserts. Luckily, it'll also get your desired height by revolving the lower chunks of the pipe.
Pros
Silent water filling
Multiple fill inserts
Adjustable height setup
Takes 10 minutes to install
Fit for DIY setup
Cons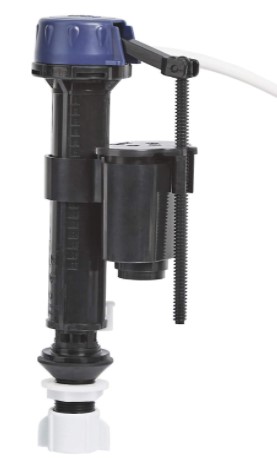 Product Specifications
| | |
| --- | --- |
| Full kit: | Yes |
| Product Dimension: | 2.6 x 11 x 3.8 inches |
| Brand: | Kohler |
| Toilet type: | Universal |
| Fill valve included: | Yes |
If you look for a universal toilet replacement kit for your home, Amazon Basics AB-T106 Universal Toilet Fill Flapper Repair Kit can serve you best. It is one of the top-rated products from Amazon Basics that comes at a comparatively low price.
Amazon Basics AB-T106is engineered to be compatible with most of the toilet models. So, you can purchase it for any of the toilets at your house with your budget. You can adjust the height of the valve in the tank simply.
Amazon Basics AB-T106 comes with mounting hardware and a user manual so you try it by yourself without hiring any plumber. Only an adjustable wrench is required to install the valve kit. The solid built material and simple design leave the kit best for DIY. It features an intel screen that impressively helps to filter out the pipe.
Pros
Reliable brand
Universal repair kit
Adjustable height
Reasonable price range
Comes with bottom connector
Cons
User manual not comprehensive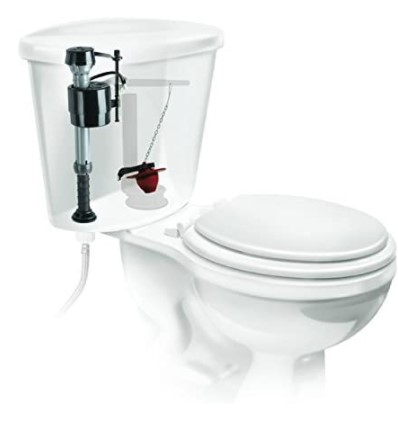 Product Specifications
| | |
| --- | --- |
| Full kit: | Yes |
| Product Dimension: | 3.71 x 6 x 15.76 inches |
| Brand: | Fluidmaster |
| Toilet type: | Universal |
| Fill valve included: | Yes |
We got another worth-sharing universal replacement valve kit that comes from the renowned maker of Fluidmaster. It is Fluidmaster 400CRP14 Universal Toilet Fill Valve that emanates with durability and excellent performance to turn your defective toilet into a new one.
This plastic and rubber made replacement kit is amazingly durable. Featuring Microban materials, it can survive rust and corrosion giving the kit long life and desired performance all the way. Its 501 2-inch diameter frame flapper can prevent breakdown and leak offering you the desired service.
It is also way practical for preventing breakdown and leaks that are caused by bacteria sometimes. Moreover, it can survive chlorine and rough water stem efficiently by dint of solid materials.
Along with all the above features, Fluidmaster 400CRP14 comes with a 5-year warranty, and installing the kit will take just 10 minutes. So, it requires no plumber that lets you save some cash.
Pros
5 years of warranty
Universal fitting
Silent filling
Rust resistant material
Easy setup
Cons
Not greatly compatible for single flush toilet.
Buying Guide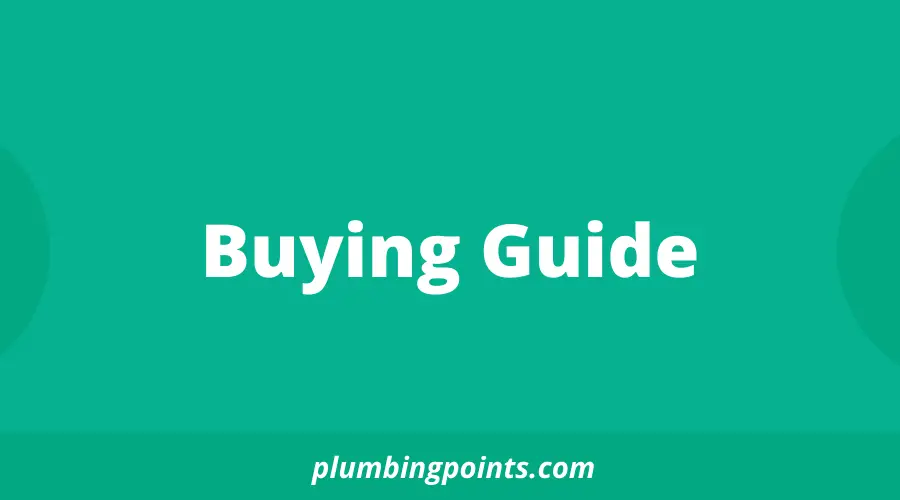 A perfect replacement kit is believed to solve all sorts of problems, but not all of them for sure. If the toilet is poorly designed or worn out, a replacement kit has nothing more to do with that. It cannot make it work as a brand new one does. Rather, the toilets that were functioning well and later experienced malfunction can be recovered fully.
The market is flooded with a multitude of admirable replacement kits, however, only a few of them can return your investment fixing your problem smartly. A toilet that adds extra water consumption bills should be changed as soon as possible. Here, I'm going to share some worth-considering tips for purchasing the perfect replacement kit for your toilet.
Wide-ranging Kit
Nothing can be best than getting a kit that packs all the necessary parts you require to fix the problem with your toilet. Exceptionally, some replacement kits even contain the necessary bolts that you require to assemble the spare parts. So, coming with all required parts together is unbeatable for the toilet.
A comprehensive replacement kit will efficiently boost the performance of your toilet and enable you to fix any issues relating to the filling or flushing. Moreover, a kit with all essential parts inside will let you save few bucks, whereas buying them separately will cost extra.
Universal Kit
The price of the exact original part is always higher than that of ordinary ones. However, it may fail to serve you satisfactorily and require to purchase even costlier kits anytime soon.
If you are purchasing a kit that claims to be universal, you can save some extra by using them for several toilet models. Note that, you need to ensure that the kit is adjustable with the bolts and valves.
A high volume of brands out there claiming to produce highly adjustable replacement kits for toilets. Literally, they are not so. Sometimes, they can serve the number of toilets, but not compatible for all toilet models. So, be careful while shopping.
Ease of installation
If you want to save some cash, you need such a kit that is easy to install. All replacement kit does not come with easy installation process. If you can't manage by yourself, you have to call a professional. And a professional can charge up to 150 dollars depending on the location you live at.
Repairing the toilet valve gets easier with a universal repair kit and some prior knowledge regarding toilet's functioning. Thus, you can save a great proportion of money.
Sturdy parts
The parts that keep your toilet healthy are flooded in water and subjected to eroding ingredients. Therefore, it is suggested to purchase a robust kit that is made of solid materials so that they can survive rust and corrosion. The growth of bacteria is another common phenomenon for the water tank. So, the parts with the capacity to fight bacteria are recommended highly.  
Flush system and water consumption
Giving extra thought to the flush system and the amount of water the toilet consumes is a crucial matter. Nowadays, toilets master how to use less amount of water with each flush. Astonishingly, some toilets even consume less than 0.8 (GPF) gallons of water making it the best option for saving water and electric bills.
A standard economical flush valve consumes up to 3.5 GPF with per flush while the flush that uses only 1 GPF can save your money in the long-haul saving hundreds or sometimes thousands of gallons of water.
FAQs on The Best Toilet Replacement Valve Kit
Top Pick
We put Fluidmaster 400CRP14 Universal Toilet Fill Valve at our top pick. It comes with cheaper price range if you compare this one with its counterparts. It also offers 5 years of warranty. Along with, it is economical in water consumption and durable built quality which ensure excellent performance.
Summing Up
If you like to purchase the best toilet replacement valve kit for your toilet, you have to shortlist the best kits first available in the market. It's a daunting task for an individual who knows almost nothing about the best kits. We, therefore, narrowed it down for you. Hopefully, you can get the perfect one for your toilet.