As an Amazon Associate, I earn from qualifying purchases.
Last Updated on September 4, 2021 by Peter M. Dodson
Do you stay in a zone where natural calamities like a tornado or heavy rain are common incidents? Then you might have installed a sump pump in your basement or crawl space.
Unfortunately, if you don't have a sump pump in your basement, without making it late, install it. Sump pumps are an electrical tool that removes water and moisture before it floods or clogs your basement or crawl space.
To keep the crawl space water-proof, and ensure total protection of the crawl space or basement, picking the best sump pump for crawl space will be a wise decision. This article will discuss everything related to the sump pump so that you can make the right decision while picking a sump pump.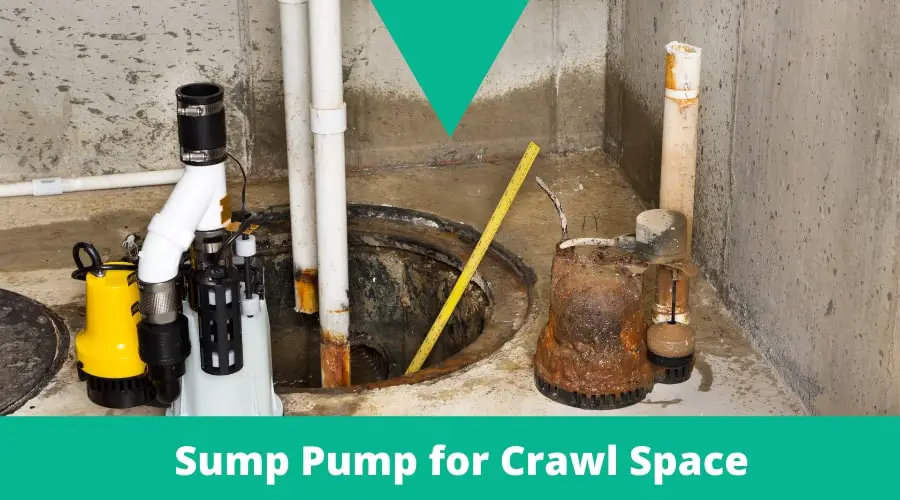 Comparison table – Top Sump Pump for Crawl Space
---
Our Recommended Top 5
Highly Recommended: WAYNE CDU800 1/2HP Submersible Cast Iron and Steel Sump Pump
Best Budget: Superior Pump 92330 1/3HP Thermoplastic Sump Pump
Best Value: FLUENTPOWER 3/4HP 3300GPH Sump Pump-Best Stainless Steel Submersible Pump
Top Rated: WAYNE CDU980E 3/4HP Sump Pump With Integrated Vertical Float Switch
Heavy Duty: WaterAce WA50SAS Sump Pump
Best Sump Pump for Crawl Space Review (Top 5 picks)
So picking the Right Sump Pump for Crawl Space is not that straightforward. I have research and find out which features and pumps will work in these criteria. let's see my finding from the below reviews: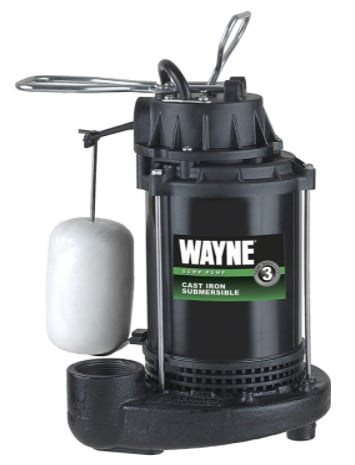 If you are tight in a budget and require an efficient sump pump, the WAYNE CDU800 1/2HP Sump Pump will be a wise pick. It is one of the best sump pumps surfing in the market that comes at an affordable price.
This submersible cast iron and steel sump pump contains a 1/2HP motor. The maximum flow rate of this sump pump is 5,100 gallons/hour, making it a fast performer in removing water from crawl space. Coated steel and cast iron bottom construction make it a durable sump pump promised to provide many years of service.
Many people are unsatisfied with their sump pump's performance because it creates a lot of noise while working. This sump pump is out of this problem that doesn't create much sound to disturb you. It comes with a top suction design that eliminates airlock and minimizes clogging. Also, making a weep hole is unnecessary in this sump pump.
Within 15 minutes, you can install this Wayne sump pump, and you will not require any help from a professional. Another notable feature of this sump pump is reliability. Because of this feature, many homeowners appreciated its performance and installed it in their home.
Pros
Excellent water flow rate.
Made of durable materials.
Ultra-quiet sump pump.
Easy installation process.
Cons
If your top priority is volume, this sump pump will not be the right choice.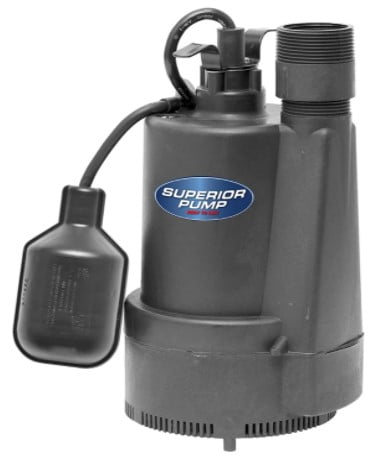 Can you imagine a sump pump that can remove water up to 40 gallons/minute? Yes, the Superior Pump 92330 1/3HP Thermoplastic Sump Pump delivers incredible performance in eliminating water from crawl space.
Sump pumps are corrosion-prone, and keeping this point in mind, the manufacturer uses thermoplastic in this sump pump that makes it a corrosion-free device. Thus, it can resist corrosion attacks in a specified environment where operating pressure, temperature, and fluid speed are pre-defined. Other accessories like handles, screws, arms, etc. are made of stainless steel, confirming the highest protection from corrosion.
It consists of a powerful motor that is durable as well. It is equipped with a 1/3HP motor, and thus it can deliver excellent effort in reducing standing water from the basement or crawl areas. It is designed and tested to offer both performance and reliability. This is one of the best features that make this sump pump distinct from other sump pumps.
Moreover, this sump pump gets activated automatically based on the water level in the basement. As a result, you will face less hassle to activate or deactivate this sump pump. Besides, it is consisting of intake screen filters that filter all debris from entering into the impeller. This way, no clogging happens in this sump pump.
Pros
Thermoplastic construction and stainless steel made accessories.
10 ft long cord.
Auto turns on/off feature because of the tethered float switch.
Quality tested.
Cons
Short lifespan compared to a similarly priced sump pump.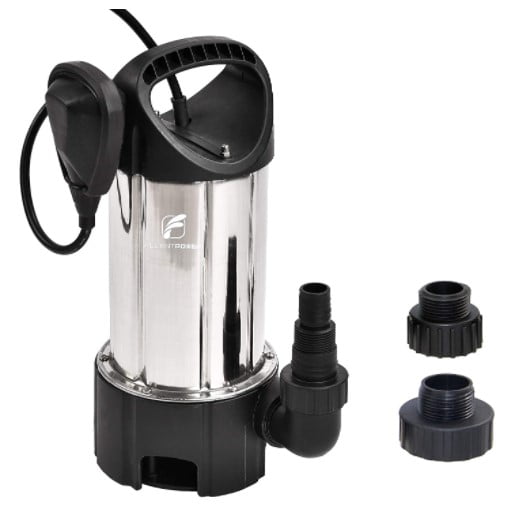 Our next product comes from the manufacturer FLUENTPOWER; it is 3/4HP 3300GPH Sump Pump, an energy-saving and portable device. It can remove 3,300-gallon water per hour on a 10' discharge lift.
The pump will never get burnt because of its thermal protection mechanism. Even if the pump surpasses thermal protection, it will stop working and will never restart work until it gets cool down. Its durable sealing feature makes the pump eligible to provide many years of service with effective performance. Moreover, you can use this pump on residential and commercial drainage, swimming pools, flooded crawl areas, etc.
Moreover, the pump comes with a unique float switch design. If you don't like to use a float switch, you can simply disable it and put on its side slots. As a result, you will need to control the pump manually by plugging it on or off to a power source. When the floater is in its side slot, the float will always be in the mandatory "ON" position. This sump pump delivers excellent performance if the water level is low or enough water is unavailable to float the water's floater.
The 3/4HP 3300GPH sump pump is made of stainless steel and plastic. It weighs only 8.6 lbs that makes it an easily portable device.
Pros
Maximum water flow rate 3,300-gallons/hour.
Stainless steel and plastic construction for longevity.
Long power cord.
Comes with a thermal protection mechanism.
Cons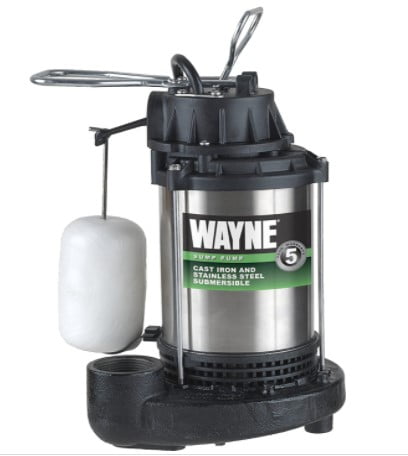 Another product from the manufacturer WAYNE is on this list. The WAYNE CDU980E 3/4HP Sump Pump is one of the best sump pumps surfing in the market comes with 3/4HP motor, cast iron, and stainless steel made construction along with a vertical floating switch.
By installing it into a sump pit, you are simply saying "goodbye" to your worries. The design is water and wear-resistant, which is confirming that it will never break down once submerged in water. Due to the top suction pump design, no debris can get clogged at the bottom portion of the sump pit. This way, the sump pump will deliver efficient performance for a prolonged period. It is an ultra-quiet sump pump that will never disturb, and you will have a sound sleep.
In terms of power, no other sump pump can beat it. This Wayne pump will relentlessly remove water at 4,600 GPH. Providing you a dry home is its prime responsibility. Even while pumping water vertically, it can discharge water from a crawl space with 3,500 GPH. To ensure the longevity of the sump pump, it is tested to 1-million cycles. Another good news is; it comes with a 5-years of warranty.
The installation process is superbly straightforward, which will take only 15-minutes. Also, it will help you save money because you can install it by yourself, and assistance from any professional is unnecessary.
Pros
Powerful sump pump.
Ensures peace of mind.
Straightforward installation process.
Tester for a long lifespan.
Cons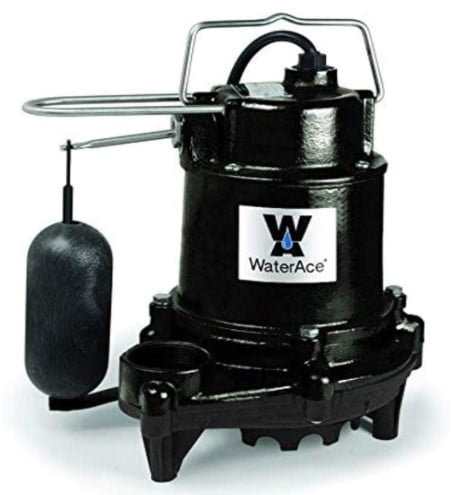 This WaterAce WA50SAS Sump Pump is an example of the best sump pump for crawl space. It will be a wise pick for the tightest space, designed to confirm trouble-free water discharging operation while using at home.
It contains a unique Permanent Split Capacitor (PSC) motor. The characteristic of this motor is to use fewer amps, while in return, it will perform more efficiently and create less heat. There is no time frame for the word "uninterrupted duty" with this sump pump. But setting at continuous duty will allow the pump to perform when necessary throughout heavy rain or other water problems. To save your basement or crawl space, you can rely on this sump pump without any confusion.
This heavy-duty sump pump is made of polyoxymethylene, which is one of the most robust materials. Its switch is being guarded by stainless steel, which means they will never get rust over time. One of the notable features of this sump pump is its sealed inner switch connection and secured with cast iron and gasket coating. All these features ensure that it is designed to provide long-term service.
The automatic float switch in this sump pump is constructed with advanced materials with a unique design that makes it one of the strongest and reliable sump pumps in its range.
Pros
Durable float switch.
Permanent split capacitor motor.
Heavy-duty sump pump.
Delivers trouble-free water discharge from crawl space.
Cons
No prominent cons are available.
Buying Guide – How to Pick the Best Sump Pump for Crawl Space?
---
Do you think all sump pumps available in the market come with all the premium quality features? Obviously NOT.
While picking the best sump pump for crawl space, it is significantly essential to know the required considerations.
Below are the most important considerations that you will need to keep in mind.
Sump Pump Types
A sump pump is 2 in type. The pedestal and submersible sump pump. However, both deliver the same result, removing water from the basement or crawl space before it can flood the crawl space.
A submersible sump pump needs to be installed below the foundation level. Typically, you have to break the concrete, and digging a hole is mandatory to install the pump.
On the other hand, to install a pedestal sump pump, breaking the concrete is entirely unnecessary. They are placed on a stand. These sump pumps create much noise compared to a submersible sump pump. Besides, they provide 5 – 15 years of service without showing any trouble.
Durability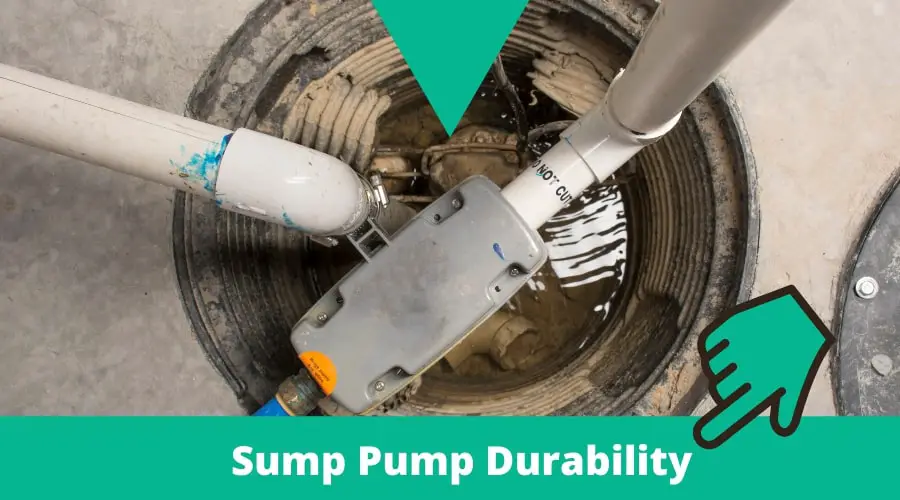 Durability is always one of the essential factors of any kind of device. Generally, sump pumps are made of different materials, and the commonly used materials are stainless steel, plastic cast iron, and thermoplastic.
The characteristics of thermoplastic are unique. When you make them heated, it will be easily moldable, and when it gets cool, it will become hard like a rock. When used for sump pumps, this material is specially used to manufacture casings, pedestals, and other parts of a sump pump. In contrast, metal or aluminum are used for making the motor.
While plastic is a commonly used material because of its cost-effective feature, it is inexpensive compared to thermoplastic. But in terms of durability, plastic-made sump pumps are less durable.
When the sump pump was invented, cast iron was the material that was used more. Since cast iron is a bulky material, it started losing popularity among many manufacturers, and nowadays, manufacturers don't use cast iron to manufacture submersible sump pumps.
Cast iron-made sump pumps are much durable, but durability will be ensured if you take proper care of them. Unfortunately, these types of sump pumps are rust and corrode-prone.
On the other side of the coin, stainless steel is much durable and lighter than different types of sump pump material. Taking good care is also not required since steel is rust-resistance. Overall, stainless steel is the best material to manufacture both submersible and pedestal type sump pumps.
Capacity 
The sump pump has 2 types of ratings that show how much efficient a sump pump is. The first rating is GPH (Gallon Per Hour). This rating tells how much water a sump pump can discharge from a basement or crawl space in an hour, and the water is measured on the gallon unit.
However, you may think, higher GPH is the indicator of a better sump pump. But it is not the actual case. Higher GPH sump pumps consist of larger motors, they consume more electricity, and if enough water is unavailable to continue the cycle, they may get burnt out.
"Head Rating" is the other one that plays a vital role. The measurement of the discharge height and length is known as the head rating. Both GPH and Head Rating will give you the water flow rate of a sump pump. The best sump pump for crawl space will come with the best GPH rate, enough to keep your basement or crawl space dry, and a large Head Rating to remove water from your home.
The range of standard GPH ratings is 2,400 – 3,000, and the Head rating is 10'.
Power Source
Most of the sump pump is electricity-powered. It would be best to connect your sump pump to a GFCI outlet to avoid fire or electric shocks.
Few sump pumps are available with a built-in battery backup mechanism. During a power outage, the battery will give power back up to the sump pump. You will remain worry-free if power is unavailable for an extended period because your sump pump will continuously work with the help of battery backup.
Switching System
The truth is that people don't consider looking at the switching system while purchasing a sump pump. 2 types of switching systems are available. Automatic and manual. It is one of the vital factors that need to be taken into consideration.
The automatic system contains a floater that engages the motor. Once the float gets pushed upwards by water, the motor will click on it. The working procedure of this float is similar to a toilet tank fill valve (only reverse) that permits water to fill the tank so that the floater can be raised sufficiently.
For homes situated in a coastal area or in those areas where heavy rain is frequent, an automatic system is the best option. With the help of an automated system, a sump pump will start working automatically, and a homeowner will not be required to check frequently if the pump is working or not. Additionally, this type of sump pump is best for crawl spaces too.
On the other side of the coin, continuous hum can become too much for some people. At this point, a manual switch system will be the right choice. This type of sump pump contains a toggle switch rather than a floater, and it is powered through a light switch or a 2-way push button.
If you require to run the manual sump pump, simply flip the switch manually. It helps to save energy, although not too much as well as you will never experience false-alarm in this type of sump pump.
Installation Cost
How will you determine the sump pump installation cost? Well, the process is a bit tricky.
First of all, figure out the type of floor you will need to dig. If the floor is made of concrete, you will need to break it, and shoveling away is enough for gravel-type floors.
If you plan to replace your sump pump due to any reason, it means a few installations work as the drainage system has already been done, so the labor cost too. Besides, you can save more money if you make the installation process a DIY project.
It would be best if you install a sump pump by a professional. A higher cost means the installation process is done correctly. If the installation process gets wrong somehow, you will need to bear more bucks in the future. A professional will ensure that there will be no issue after the installation process, and the sump pump will work at its best.
Warranty
Sump pump warranty varies on the type. The lifespan of a submersible pump is 5 – 15 years. The pedestal pump will deliver 20 – 30 years of service. The materials for construction, installation of the pump, and maintenance will be performed during the warranty period provided by the manufacturer.
2 – 5 years of warranty will be covered by most of the manufacturers. Also, you will get 10 years of warranty for other parts. However, different manufacturers will provide a separate warranty for your sump pump.
Crawl Space Sump Pump and Pit with Mud Filtered 5 Gallon Bucket
Advantages of Having a Sump Pump
Owning a sump pump is much beneficial. Below are a few of the benefits that you will get after installing a sump pump.
A sump pump saves your property and time in the house and helps to remove floodwater.
Even with the cost of professional installation, you will be paid much more than its installation cost.
Battery backup sump pumps are also available in the market, so a power outage will not be an issue to discharge water from your basement or crawl space. It will continue working with the help of the battery.
Sump pump for the basement or crawl space doesn't require much maintenance. Periodic checking and clearing the debris is enough to keep the sump pump at its best level.
The responsibility of a sump pump is not only to keep the basement or crawl space safe from flooded water. You also can use a sump pump for draining water from a pool and in any other project where you will require to discharge water quickly.
Frequently Asked Question About 
---
Who needs a sump pump?
Water standing in your basement can cause mold, germs, and the wooden supports of your home to start to rot. If mold develops in your home's basement or crawl space, you will face a challenge. Even removing mold will cost you a lot of money. It is not enough to rely on natural channels to protect your home from floods and groundways. So, a sump pump will be the best option to ensure the safety of your basement.
How many hours, a sump pump provides battery backup?
Generally, a sump pump delivers 2 – 3 hours of battery backup during a power outage. Once the battery charge is finished, you will need to plug the sump pump to an electrical power source. Within a couple of hours, it will get a full charge.
Is it mandatory to take assistance from a professional to install a sump pump?
If you have enough knowledge of the city ordinance and know where to dig a hole and other criteria to install a sump pump, only then you will not require help from a professional. Remember, if anything goes wrong during the installation process, you will face much hassle to correct it.
Final Words
Purchasing a sump pump is not a difficult task, but purchasing the right one is tricky. I believe, with the above guideline, you will be able to pick the best sump pump for crawl space. Many thanks for reading this article.
Happy purchasing!