As an Amazon Associate, I earn from qualifying purchases.
Last Updated on March 6, 2022 by Alexander A. Smith
If you have a washroom, toilet, or laundry room sitting below the municipal sewage line, all the liquid waste you have isn't going to flush itself to the sewer system upwards. This is where you need a sewage ejector pump to suck all the waste and send it to the main sewage line sitting above.
Hundreds of sewage pumps are available on the market today with different sizes, horsepower, material, and price points. This variety can be daunting to choose the right one according to your need.
In this article, we'll talk about everything there is about sewage pumps, what they are and why you need one. We also reviewed some great sewage ejector pump options and a detailed buying guide to educate you about the factors you should consider when buying a sewage pump for yourself.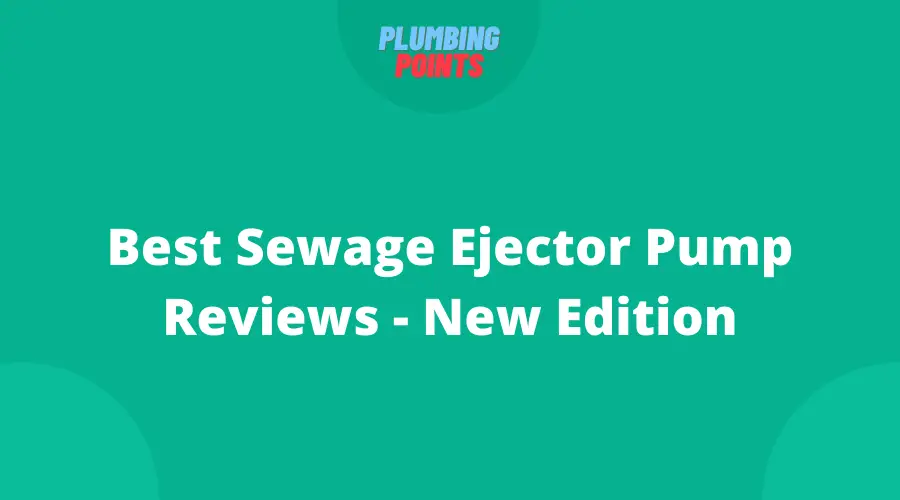 Comparison Table -Top Sewage Ejector Pumps 2022
Best Sewage Ejector Pumps in Different Category
In case you are in a rush and don't have time to read the article thoroughly, we categorized the products with their lead characteristic for you.
Zoeller Waste-Mate 267-0001 Sewage Pump – Best Sewage Pump System Overall – This pump is your safest bet if you want to get the best of all worlds in one package.
Wayne RPP50 Cast Iron Sewage Pump – Best Residential Sewage Pump – Considering the price, build quality, and performance, this sewage ejector pump is the most suitable choice for any residential use.
Zoeller M264 Waste-Mate Sewage Pump – Best Sewage Pump for Basement – For moderate use with the toilet or laundry room in your basement with decent performance, you can check this pump out.
Acquaer Sewage Pump – Best In terms of Sound Cancellation – With all the basics executed right, this pump works quietly without mentioning its presence. An excellent choice for noise-sensitive people and places.
ECO-FLO RSE50M Sewage Pump – Best Manual Sewage Pump – If you are looking for a good sewage ejector pump without a switch to control it manually and the option to install a switch of your choice later, you might want to take a look at this pump.
Liberty LE51A LE50-Series Sewage Pump – Best Value for Money Sewage Pump – Considering the performance to price ratio and other basic functionalities executed perfectly, this sewage provides the best value for the price.
What's a sewage pump?
Typically a sewage pump is a submersible pump with solid handle capabilities and uses low pressure to move our wastewater from the bathroom, laundry room, or any structure situated below the sewage line to our septic tank or main sewage line. They are also referred to as non-clog pumps too.
Where does the sewage pump come in?
Sewage pumps can be essential household machinery if you have a bathroom, laundry room, or live somewhere below the septic tank or sewer line. As you live below, all the liquid or soft solid wastes cannot automatically reach the sewage line or the septic tank, and the sewage pump does the job of redirecting all the waste upward at low pressure. 
What's the difference between a sewage pump and a sump pump?
The main difference between a sewage pump and a sump pump comes to their intended use. Sewage pumps are for liquid waste disposal, while the sump pumps are used to remove any water, e.g., water leak, groundwater, or rain, so that the basement doesn't retain any and because flooding. Sump pumps have sump basins installed at the lowest point of your basement to collect all the extra water and redirect it away from the house.
Specification
Material: Cast Iron
Flow Rate: 128 GPM
Engine: ½ hp
Switch Type: 2-pole mechanical switch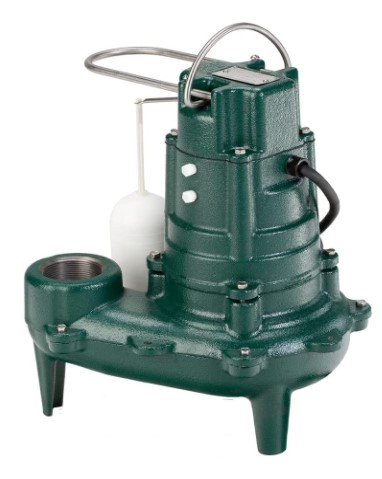 Zoeller is considered one of the most reliable sewage pump manufacturers globally. One of their most popular Zoeller Waste-Mate 267-0001 M267, with exciting features and performance, proves why they are the best in the game.
The pump features ASTM Class 25 cast-iron for its important parts like the housing, vault, and base. It also has a corrosion-resistant finish. Construction and material-wise, it has all the right qualities to become a long-term investment.
Performance-wise, it has a GPM of 128 paired with a ½ hp engine, which can handle any amount of residential waste, and if you want, you can use it for moderate commercial purposes too.
This pump also includes an integral two-pole mechanical vertical float switch. The switch works very accurately and runs the pump automatically to control the waste. So you don't have to get too confused about any manual control.
This particular sewage pump does a great job in terms of convenience too. It has a 10 feet long cord to connect it at a long distance. For water and dust proofing, there is a shaft seal made of ceramic.
The non-clogging vortex impeller design is capable of sending solid wastes up to 2 inches. So if you have the bad habit of throwing paper towels or solid tissues into the toilet, this pump has got your back.
The installation is relatively easy, and anyone with basic plumbing knowledge can set it up with the help of an installation guide.  You won't even need to change your existing vent pipes for them to rum the pump.
Pros
Durable cast-iron body with a corrosion-resistant finish
Higher than average sewage pump flow rate
Non-clogging vortex impeller design
Cons
Power cords are shorter with some models.
Price may seem a little high to some people.
Specification
Material: Cast Iron
Flow Rate: 6200 GPH
Engine: ½ hp
Switch Type: Tether Float Switch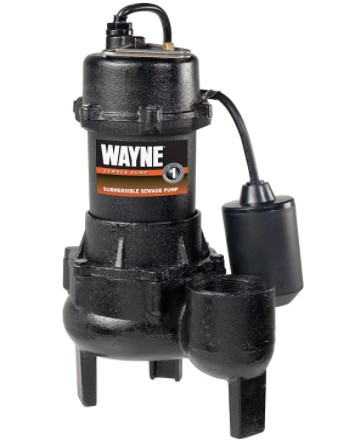 If you are searching for the best residential sewage pump at a reasonable price to maintain the residential hygiene at your house, there is no better option than the Wayne RP50 Cast Iron Sewage Pump. This model offers a cast-iron build to ensure maximum durability and a longer lifespan.
The pump has a piggyback tether float switch that does a fantastic job controlling the pump automatically. However, despite the tether floating switch, you also get a manual mode of operation to start the pump whenever you want.
Moreover, a "Switch Genius" sensor can detect the water level and run the motor accordingly. This prevents the pump from longer runtime and saves the owner from a high electric bill.
In terms of performance, this pump has a flow rate of 6200 GPH with a maximum discharge height of 10 ft. The discharge system is also capable of handling solids up to 2 inches. On top of all that, the pump boasts a ½ hp engine that can discharge the water pretty quickly. Overall the performance should suffice any regular residential needs.
The installation process is pretty straightforward, too, and you don't need a plumber to set it up. Just follow the manual included with the pump, and you should be able to set up the pump in about fifteen minutes.
Pros
Excellent value for money
Ideal size to fit residential basins
Effectively discharge solid wastes up to 2 inches
Cons
The quality of the power supply cord is not great
The float switch doesn't work accurately sometimes
Specification
Material: Cast Iron
Flow Rate: 90 GPM
Engine: 4/10 hp
Switch Type: 2-pole vertical float switch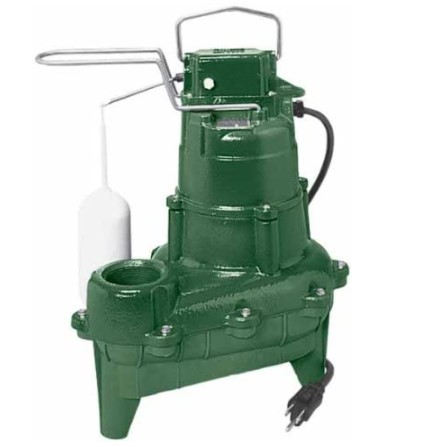 One of the most popular sewage pump brands makes a comeback on our list with their Zoeller M264 Waste-Mate Sewage Pump. This is a submersible pump designed to handle both residential and light commercial usage.
All the parts of this sewage pump, including the housing and frame, are cast iron. Zoeller decided to go with an engineered plastic base for the base, which can also serve you well for a long time. To ensure corrosion resistance, it has a powder-coated epoxy finish.
Unlike the previous pump from Zoller, this pump has a slightly downgraded 4/10 motor with a flow rate of 90 GPM. Nevertheless, the motor does not compromise the consistent and reliable performance Zoeller is known for. If it runs hot after running for a long time, it has protection to save the engine from overheating, reducing the performance. 
Non-clogging vortex impeller design is another noticeable feature of this sewage pump with the ability to pass soft solids up to 2 inches. One of the most common problems people face with the sewage pump is frequent clogging. The non-clog vortex impeller saves you from that problem by breaking up larger solids and keeping the water moving.
Powered by a 15 feet long UL-listed 3-wire power cord, this sewage pump has all the great qualities to last a lifetime.
Pros
Non-clogging vortex impeller design
Great for regular household use
Vertical float switch for reliable operation
Cons
It needs an adapter bought separately for 1.5″ lines
Not suitable for large volumes of waste disposal
Specification
Material: Cast Iron
Flow Rate: 6300 GPH
Engine: 1/2 hp
Switch Type: Adjustable tethered piggyback float switch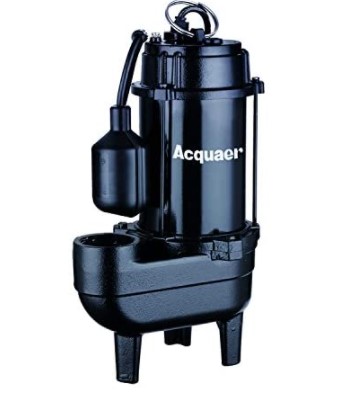 Sometimes a straightforward and basic-focused pump can generate the best result without any extra fancy feature. This Acquare Sewage pump falls right into that category, with all the basic stuff done right at a great price.
Talking about the build, it has a cast iron construction with corrosion protection that offers super durability and a longer life span.
With a 9.5 Amp, 1/2 horsepower motor, this sewage pump offers excellent performance and efficiency for moderate residential and commercial waste applications. In addition, there is an adjustable tethered piggyback float switch that does a great job at handling the discharge routinely.
Moreover, this sewage pump is rated for a GPH of 6300 with a maximum head of up to 27 feet which is longer than most of its competitors. This height can provide you the vertical lift needed to dispose of waste from a much lower construction.
Another great feature that sets this sewage pump apart from the rest is it's super quiet despite a considerably powerful motor. Many people complain about the sound that their sewage pumps generate. Thankfully, this pump produces almost zero sound at its full capacity making it a perfect choice to install at noise-sensitive areas like care homes, hospitals, or schools.
The machine is powered by a 10 feet cord, a decent length at this price point. You can use the pump right out of the box with an easy-to-understand annual to install it with ease.
Pros
Super easy to install
It features automatic thermal overload protection.
Produces almost no sound while in operation
Cons
Some users complain about the float switch failure
It cannot drain effectively with a deeper tank
Specification
Material: Cast Iron
Flow Rate: 7800 GPH
Engine: 1/2 hp
Switch Type: N/A, Manual Control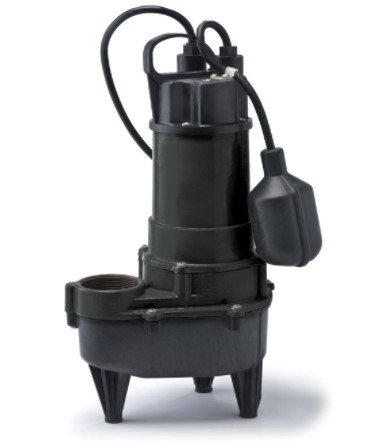 Unlike any other pumps listed in our list, the ECO-FLO RSE50M sewage pump is the only manual sewage pump on our list. At first, a non-automatic pump might not seem like a convenient option for many, but this pump is an excellent choice if you want complete control of the operation.
You also have the option to add a quality third-party switch later, considering a lot of switches that come pre-installed have complaints about the quality and accuracy.  
We admit the price may seem a little higher than the other listings, but the features and performance it packs should satisfy you easily. Like the other options on our list, this sewage pump has a construction made of corrosion-resistant cast iron with a thermoplastic plate underneath.
Getting into performance, this sewage pump has a ½ hp engine capable of fast discharge with a flow rate of 7800 GPH. If you have a high waste production or large basin at your residence or commercial place, this pump can serve you effortlessly. To prevent overheating from frequent use, the engine comes with a built-in heat protection system.
For installation flexibility, ECO-FLO added a 20 feet long power cable so that you don't have to worry about the power source distance anymore.
Pros
The longer cord gives you the flexibility of installation
Option to add suitable switch later
Suitable for both residential and moderate commercial use
Cons
Price is high for a manual sewer pump
Some units come with cords shorter than described
Specification
Material: Cast Iron
Flow Rate: 160 GPM
Engine: 1/2 hp
Switch Type: Tethered piggyback float switch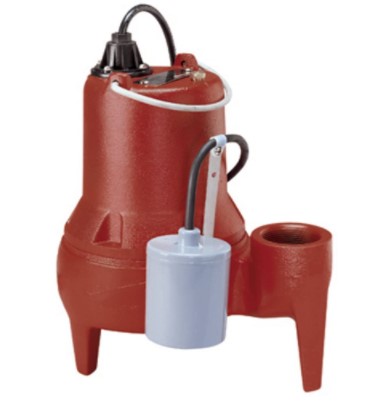 At the end of our list of best submersible sewage pump, we have the Liberty LE51A LE50-Series submersible sewage pump. This pump offers the highest quality with a wide range of features to facilitate the best performance possible for both home and commercial use.
The first thing you will notice is its simple design aesthetics and durable build. Like all the other sewage pumps on the list, this one too has a robust cast iron housing coupled with heavy-duty epoxy-coating to prevent the pump from corrosion underwater. In addition, all the fasteners that come with this pump are made of stainless steel for added protection.
This pump has a significant lead than its competitor in terms of flow rate with 160 GPM and a ½ hp thermally insulated motor enabling faster discharge. The bearings inside the pump come with permanent factory lubrication for a seamless and smoother function.
With a shut-off head of 25 feet, you can lift waste from relatively lower places too. The pump can handle solid up to 2 inches with a 2-vane semi-open impeller that breaks down the solids for easy passing.
Lastly, this pump comes with a 10 feet standard power cord with a quick-disconnect feature allowing you to replace the cord in a moment and save the pump from power failure.
Pros
2-vane semi-open impeller for more efficient solid disposal
Great price to performance ratio
Quick-disconnect power cord for easy replacement
Cons
Generates more vibration and noise compared to other models
You might need an electrician to wire it correctly
Buying Guide
As we have told you several times before, it's not an easy job to choose the best sewage ejector pump system according to your base plumbing. With many features offered by different brands, it's normal for a regular person to get blindsided and choose the wrong pump.
That's why it's important to have some general knowledge to figure out which sewage pumps are the best suit for you. Below we have compiled some basic things to keep in mind before making a purchase. Have a look!
Durability and Build Quality
Sewage pumps are not something we buy very often and are supposed to withstand much wear tear over the years. So, a durable sewage pump made with the highest quality material can serve you for a very long time.
Ideally, cast iron is considered the best material for sewage pumps. Most known sewage pump manufacturers use cast iron for the body, accompanied by stainless steel fasteners and rotors. Make sure every part of the body is resistant to rust and corrosion.
If you look on the budget side, some models also use thermoplastic as their key component, and for the price, they also perform well.
Performance
The performance of the sewage motor mainly depends on two things: the amount of horsepower the motor has and the pump's flow rate.  The primary function of a sewage pump is to remove all the waste, and the flow rate dictates how much waste it can dispose of in a certain amount of time.
For pumps with a bigger horsepower number, you won't need to run it for very long, which will eventually make the pump last longer. When purchasing, check the product manual for the flow rate and horsepower. Both of these things solely depend on the waste production at your home.
If you need the pump to dispose of large waste, we recommend a higher horsepower and flowrate pump. Flow rates are usually measured as GPM or GPH (Gallon per Minute/ Hour).
Budget
Assuming you checked out our product reviews, we think you'll agree that the price of a pump varies from model to model depending on the features they provide. There is a wide price range for sewage pumps, and there are some great options on both the higher and lower sides of the spectrum.
Pricier models typically tend to deliver better quality and performance, but that doesn't apply to every model. So instead of entirely focusing on the price, focus on both price and the value it's providing, and you'll find a good quality pump that fits your budget.
Type of the Pump and Your Sewer System
For optimum performance, you must choose the right pump that matches your house's sewer system. Depending on the structure type or where you live, you can either have a septic tank or a dedicated sewage system for liquid waste disposals.
If you have a septic tank system, ejector pumps are the best choice for you as grinder pumps cut the solids into a fine slurry and cannot be separated from the liquid after discharging in the septic tank. However, if you have a dedicated pressurized sewage system, you can opt for an ejector pump or a grinder pump.
Pump Switches
Pump switches are another crucial factor that makes the functionality more efficient and convenient. There are two types of switches in a sewage pump, a vertical float switch or a tethered float switch.
The ideal choice for you should be the tethered float switch which allows the pump to turn on or off automatically. You can set the levels on which tethered switch turns the pump on and off. It also floats horizontally above the water for the ease of unobstructed discharge.
A tethered switch is suitable for deeper and larger sewer basins, as tethered float switches need an extensive range of motion, and in the bigger pit, it doesn't activate the motor frequently.
On the other hand, a vertical float switch is ideal for smaller sewage pits. The switch floats vertically near the pump at 90 degrees and turns the motor on and off automatically according to the water level.
What is sewage ejector pump- Best Septic pump system
Frequently Asked Question
What is the best sewage ejector pump?
The best sewage grinder pump should be able to serve you for around 8 to 10 years. Sometimes the longevity crosses 20 years mark as well. The built-in, reliability, functioning, construction, and other features need to be humble enough to serve you that long. And a pump that looks promising in all these points is what you should consider best for you.
Who makes the best ejector pump?
There are many reliable brands that are deserving of being called the best but also you need to understand that not all manufacturers' construction styles will work best for you. And so, if you are asking for the reliability of rand, then surely Wayne, Acquaer, Liberty, Superior, and Zoeller are some of the well-known brands that make quality sewage ejector pumps.
How long do the sewage ejector pump systems last?
Depending on usage, environment, and quality, the years of lasting for sewage pumps will always vary. However, you can expect it to work for almost ten years with heavy-duty functioning to twenty years of thorough maintenance.
Step by Step Installing Sewage Ejector Pump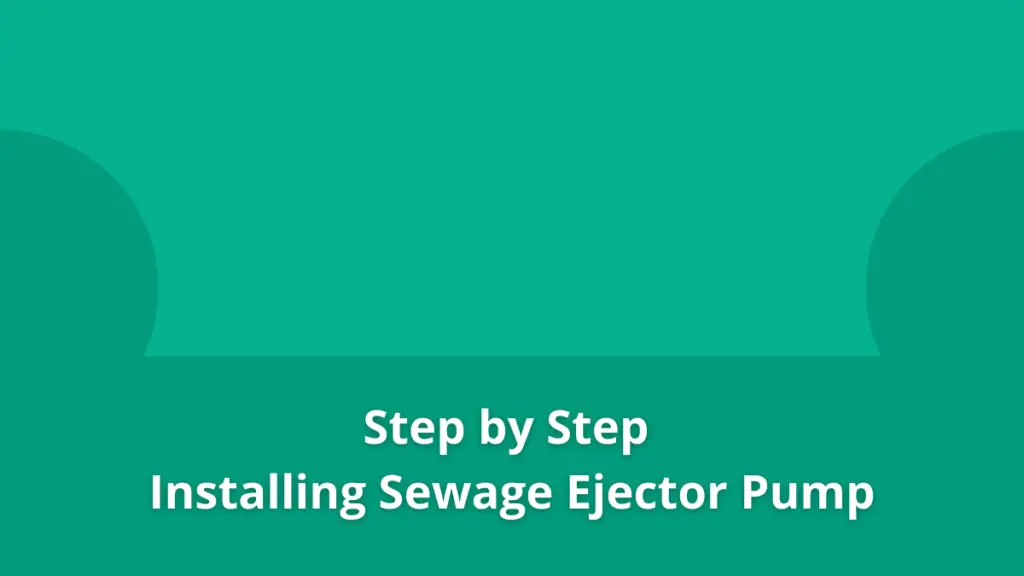 Installing a sewage ejector pump with the help of plumber might cost you a lot. If you have to give a little effort, you can install the sewage ejector pump by yourself.
Check the step by step process as a guide to install the pump at home
Installation Necessities
Sump basin
Vent pipe
Check valve
Sludge outlets
Electric outlet
Gaskets
Grommets
Screws and Washers
Step 1: Check the Measurement
Though the sewage grinder pump installation looks similar to the sewage ejector pumps, the installation processes are quite different. To install the ejector pump, firstly, you have to go through the measurements.
The size of the sump cover is necessary here. Before all the plumbing and required installation, the sump basin is installed.
You have to remember that the sump pit of the kit will be 30 inches deep. So, if you want to get the perfect result, you have to note down the circumference first.
All the information is usually on the manufacturer's booklet. Check it and know the details. After that, you have to mount the sump basin.
Step 2: Piping
With the help of the piping, the vent and the discharge connections work. So, you cannot deny that piping is a crucial factor in installing a sewage ejector pump.
First of all, you have to check the discharge point on your pump. If you are worried about the Teflon tape, then let us ensure you don't need it!
For this, take a threaded male adapter of 2-inch. With this one, you can easily have an indirect slip fix with your discharge pipe.
When you are dealing with the discharge PVC, make sure that you keep it long. For adding the check valve, you will need this.
Also, when it comes to discharging the main drainage connection, a long PVC is required.
According to the process, you must keep 3 inches long PVC extra from the basin cover here.
Step 3: Setting the Basin Cover
Now that you are done with the pump system's piping, you have to move to the ejector pump and its setting.
First, take the ejector pump in the sump basin. All you have to do is reduce it from moving too much.
So, attach it with the discharge pipe by tying it. You have to keep it away from the inlet.
In some cases, people often set it behind the discharge pipe so that there are fewer movements.
The float switch is usually kept away from the inlet pipe. It helps in keeping the float switch away from clogging.
Step 4: Check the Holes
In this situation, you are ready to put on the basin cover. The basin cover includes three separate holes.
One hole is for the drainage pipe, and the other one is for the vent pipe. The last hole will be for electrical cords.
You will get the necessary equipment like the grommets, gasket, and the screws to install it. Keep the bolt holes parallel to keep the process perfect.
Step 5: Fitting the Holes
There will be some pipes that will come out of your basin. Make sure that these fit the lid cover holes correctly.
You have to take the grommets and make them fit with the three different holes. Now, take the gasket and set it inside.
It helps to seal the inside portion correctly. Do not rip off the gasket at first. Check the tank lip and certify that it is neat and clean to stick with it.
Step 6: Setting the Gaskets
Now you have to turn to the gaskets. There will be three different gaskets here.
These are for different holes in the basin cover. Install them and ensure that gas is unable to escape.
Once you are sure that the gaskets have sealed the cover making the basement safe, you are ready to move to the next step.
Step 7: Setting the Grommet
There are two different holes in the cord government. These are designed in a way that they split into different sides—this helps in letting the cords slip through the hole without any complication.
You have to connect the pipes and cords in this step. Push the grommet and put a decent amount of pressure.
You will see that it will stick to the lid of your basin. Place the gasket and then move to the grommet.
Check the washers and the bolts and set them up. Use some anti-seize lubricant and protect the screws and bolts.
Step 8: Installing the Check Valve
Now that you are done with the gasket, grommets, and screws, you have to move your hands on the check valve.
If you do not use a check valve, the water you have used will run back to the tank! Yes, this doesn't sound very pleasant!
And to stop it, you have to install the check valve. While installing it, keep it horizontally.
If you want to make your sewage pump for septic tanks perfect, you can also add a ball valve on top of the previous valves. It will make the disconnection of sludge easier.
Conclusion
Finding the most suitable sewage ejector pump according to your need and expectations can be challenging but not impossible. With proper guidelines and accurate reviews, you can easily find some great sewage pumps without breaking the bank.
We hope now that you've read the article, our review of some of the best sewage pump systems should point you in the right direction and ease up your job to find the pump suitable for your need. To help you understand and decide for yourself, instead of blindly following any review, we've outlined a detailed buying guide too.
Just pick the pump of your choice from the list provided, and we guarantee you won't need to call a plumber anytime soon.