As an Amazon Associate, I earn from qualifying purchases.
Last Updated on September 4, 2021 by Peter M. Dodson
The answer will make your eyes big.
It is 60%.
Well, in this case, you have no other choice of purchasing the best residential sump pump.
If your drainage system is improper, your basement will face severe flooding, especially at the time of severe storm.
The best sump pump is designed in such a way that it can deal with water and pump the water to the central plumbing system to dispose of the rest of your waste-water.
However, in this article, I am going to share the best residential sump pump after reviewing dozens of sump pumps. Also, you will get a buying guide and a FAQ section at the end of the article to make a precise decision before purchasing a sump pump.
Before we go to the review section, we will learn why the sump pump is required for your residential.
So, let's take the sump pumps in the stage.
Comparison Chart – Top 5 Residential Sump Pump
Why Buy the Best Residential Sump Pump?
---
These days, electric sump pumps are quite well to serve you. Additional battery power also gives service for up to eight hours without electricity. While choosing the brands in the market, we may check the Best residential sump pump reviews to know the facts.
It's tough to find the perfect pump from various models. Features and budget may be the indicators to get one.
Let's hop in to get the best available in the market and find the exact features we are searching for.
Top 5 Residential Sump Pump in 2020
When we need a quality pump, Superior Pump is a well-known pump in the market. Superior Pump has a long track record of manufacturing pumps from '70. Only on Amazon, it has more than Seven thousand customer reviews, of which 77% is highly positive. A great amount of users is satisfied with this one.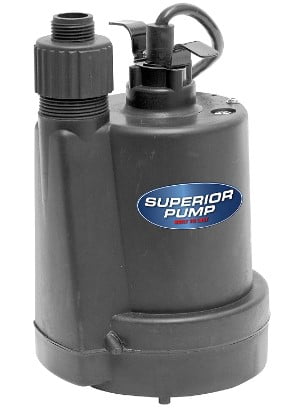 KEY FEATURE
1/4 HP powerful Utility Pump.
25' vertical water-lifting coverage.
It comes with a Garden Hose adaptor.
1800 Gallon of water pumping capacity per hour.
Well manufactured and long-life pump.
More Detail on Superior Pump 91250:
---
Superior Pump manufactures the right equipment to handle the situation. This small but high power pump has a 1,800-gallon water/hour pumping capacity. It also comes with quality body parts, including stainless steel shaft seals, O-ring seals on the motor, full copper motor winding, and lab-tested advanced feature split capacitors. Each piece of the pump is tested in the factory to maintain its quality and performance.
This pump makes the task easy with 25' of vertical height coverage in water lifting. Its additional garden hose allows spraying water in the garden, too. The removable suction feature handles solids up to 1/8 inches, quiet in function, and becomes the right submersible utility pump.
It also works to drain Pool water. Users love its plug and play feature. In need of a pump for multiple uses, the Superior pump is a solution to get all in a package. It's better than other water draining kits in the market.
What We Think About Superior Pump 91250:
---
Superior 91250 has multiple functionalities like water draining from the basement, tubs, garden, and other places. It can be a perfect pick in the budget. It also works better than any other pump. It comes with strong manufacturing, plug, and plays function and smoother operation. When you choose to get a pump in the budget, then I am quite sure after checking the Best superior sump pump review, the Superior 91250 will be in the shortlist.
Sewage pumps are daily needs for those who have basement water issues. They suffer almost every day. Zoeller is the USA made a pump that comes with high quality and performance solutions on these issues. Better manufacturing, proper strength and good results are the strength of Zoeller.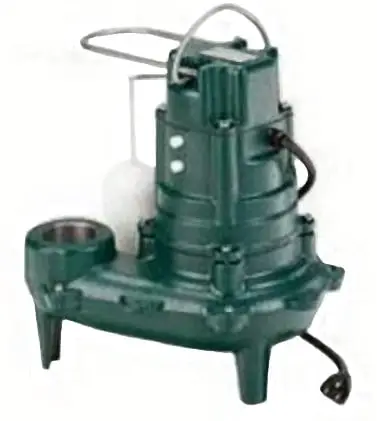 KEY FEATURE
Cast iron made strong equipment.
The USA made, quality pump.
The factory-tested 1/2 HP submersible pump.
High-Performance Pump.
Manages 2" solids while suction.
More Detail on Zoeller 267-0001 M267:
---
Zoeller is a USA made quality pump that has been serving water solutions for many years. It manages domestic need and handles draining 2" sized large solids quite well. People who are suffering from water logging issues, they appreciate the service from Zoeller. It is also easy to set up solution for basements.
For handling Sump pits, the manufacturing is unique. These are capable of working in extreme logging conditions and perform well in the basement, swimming pool, and tubs. Handing dirty water is a specialty from Zoeller. Pumps from the same manufacturer have track records of serving 15+ years to its users, so a quality made equipment will serve better.
What We Think About Superior Pump 91250:
---
Zoeller pumps come with rugged performance. In any worse condition, it becomes a great help. Previous users highly recommended this. With higher performance, reviews, and Zero complaints, Zoeller can be the best choice.  From the view of paint and internal manufacturing, these are so good that the pump lasts year after year without any maintenance. While it comes to the performance pump issue, Zoeller is the one.
The powerful motor of Homdox makes it a stand-alone product. It also comes with a brand reputation and a reasonable price. It has an "auto power on" function while water reaches a certain level to start draining out. It's an overall performance submersible pump for home use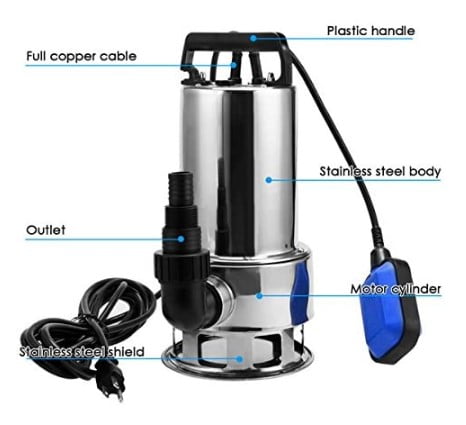 KEY FEATURE
1.5 HP submersible pump.
1100W 4356GPH Water Pump.
Three Different diameters Outlet.
Automatic Float switch.
Energy Saving mode.Multipurpose pump.
More Detail on Homdox Sump Pump:
---
Homdox pump has a well-known reputation for its multiple-use and affordable pricing. It is a 1.5 HP pump, run by 1100W and a 4356GPH electric motor which pumps water at a good speed and handles the right amount of water. All the features are similar to the heavy-duty pump. This pump has three different sizes of outlet, which manages the different sizes of hose and flow types. It works fine in the basement, fountain, ponds, aquarium, tubs, swimming pool, flooded area, etc.
This pump comes with an automated float switch; it enables us to start the pump when the water level is high and stops when it comes to the expected level. Generally, the water level is set at 8 inches; if any kind of operating issue occurs and the pump does not work, then the power should be disconnected to avoid burn.
Every basement needs an excellent pump to drain out clogged water where Homdox does the trick well. It works appropriately with a higher base plate. These types of pumps act like protective devices in basements; one knows the pain of waterlogging when he lacks a pump in that situation. When you need a pump in the budget, Homdox is the right choice.
What We Think About Superior Pump 91250:
---
Basement water handling is secured with a multifunctional pump. Homdox comes with an automatic float switch; it works fine with an instant solution. From this pump, we get three different size outputs and correctly handles our basement to the swimming pool. Homdox has more features than any other brand in the market.  For a good performance pump selection, Homdox comes with more to facilitate clients. So, it could be a good choice for sump pump buying.
Flotec manufactures heavy-duty performance pumps that work excellent on basement water cleaning. For the last 30 years, Flotec has been leading the industry with quality pumps. The FPZ33T Model is a 1/3 Horse Powered pump for domestic use. People suffering from clogged water in basements can use Flotec to minimize regular hassle with fewer efforts.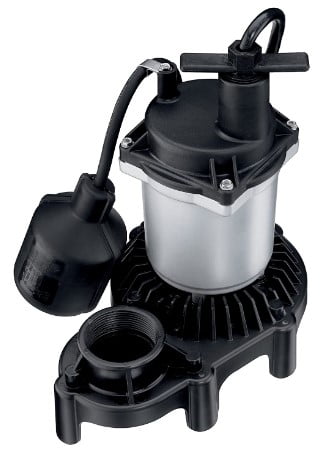 KEY FEATURE
Submersible Sump Pump.
1/3 HP motor powered.
Tethered float Switch.
3600 Gph Capacity.
CSA and Cus Certification.
Overload protected motor.
More Detail on Flotec FPZ33T:
---
Flotec manufactures domestic and commercial pumps for the last 30 years. They are always focused on customer needs and continuously developed their product quality day by day. The FPZ33T is a modified model for domestic purposes. Regular water logging in the basement weakens the main structure and wall conditions. Flotec comes with a tethered float switch that automatically functions on increased water and drains out to keep the basement dry.
This pump has 1/3 HP motor, which has a different inlet and outlet 1-1/4 inlet and 1-1/2 NPT outlet with a 22 feet extension head. This pump handles 3600 gph water and has an 8 ft cord to manage connectivity. The thermoplastic made structure lasts longer than others. The excellently manufactured pump works fine in domestic conditions like the utility pump, sprinkler pump, pool pump, pressure booster, tank filler, sewage pump, and many more.
Flotec pumps are also budget-friendly with good output. Those who use the pump have recommended it to others. One Performance pump can save our basement from demurrages. People who suffered from basement water issues have been relieved from a good sump pump.
What We Think About Superior Pump 91250:
---
Flotec is a budget-friendly sump pump that comes with a tethered float switch, which does the job without any efforts. From the existing flotec sump pump client reviews, you may go for this pump. Additionally, the overload protector motor and the highest capacity in pumping water make it one of the right choices for basement maintenance.
A quality sump pump comes with high performance and client reviews. The preferred pump has experience in the industry from the '70. Additionally, expertise in the plumbing industry is from 1885, so a product from an extended experienced manufacturer adds some value, too. Its facilities of float switch, robust body structure, new cord, and factory tested products make it a domestic friendly product for all.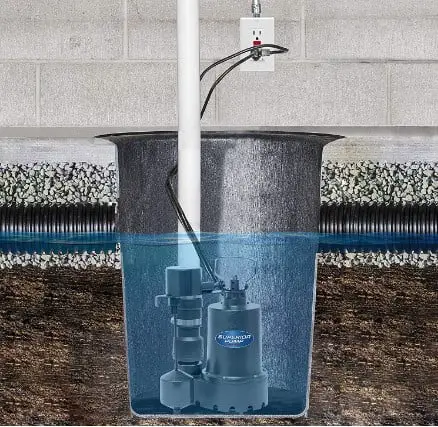 KEY FEATURE
Tethered Float Switch.
1/4 HP powered motor.
Pumps up to 1,800 gallons per hour.
Lifts water up to 25' vertical height.
High Capacity pumping capability.
More Detail on Superior Pump 92250:
---
The superior pump has long experience in manufacturing domestic pumps. Someone with clogged water in his basement understands the need for a sump pump. Superior 92250 is a fully functional pump powered by 1/4 HP motor and pumps up to 1,800 gallons of water per hour. In consideration of its pumping capacity, it serves the need for any house.
This pump is capable of lifting water up to 25 feet vertically. It's made with thermoplastic parts to give more life and has an additional 10-foot cord, which enables getting water from difficult places. Overall, user reviews reflect how durable and well-engineered pump it is. Some are using superior pumps from the last 15 years, and the pump has no rust on it!
Pumps from Superior, are 100% tested from the factory and smoothly handle solid sewage up to 1/8-inches. This UL/CUL and CSA certified pump have a great one year warranty from the manufacturer.  It's made in the USA and with excellent quality adheres to us with proper care. 
What We Think About Superior Pump 91250:
---
Superior Pumps are one of the leading brands in the industry with promising quality. It is durable, plug and play, easy maintenance, and affordable in price. After knowing the market position of the Superior Pumps, it can be a preferred product than other available brands. According to these features and durability, Superior Pumps can be in the choice list. 
Choosing the Best Residential Sump Pump
---
It's quite a hassle to find the perfect residential sump pump from many models. If you have some knowledge of the best features you need, then it's easy to grab the best one. Now we will talk about some common issues before purchasing a pump:
Well manufactured pumps have years of longevity. Choosing a well-built pump will sustain 10-15 years, so while buying, check the Cast iron, and thermoplastic materials that may have a good impact.
Brand choice is another practical issue, a few brands are in the industry for the last 20-30 years. They, for sure, have more market experience and easy to handle features. On the other hand, the USA made products are far better than those of China-made pumps.
HP represents the strength of a Pump motor; a high power pump will not be the best one for residential use. If you go for a 1/2 HP pump, it will manage the tricks for your house.
Water pumping capacity is another issue to consider. Pumps with 1800 gallon pumping capacity/ hour is a standard rate, others with larger size will also serve basement cleaning to pool maintenance and other works. Some pumps with floating switches acts automatically when water level increases and perform well for the water tank refilling feature. Those are added advantages.
Handling issues are a major one for buying a pump. Some are easy to install and handle and some require expert plumber engagement. So, choosing an easy to install and maintenance pump will save some bucks.
Sump pumps are from different price ranges. An affordable one will have better acceptance. Saving a few bucks will not make a hole in our wallet.
Considering manufacturing to durability, performance to affordability will guide us to pick the perfect and best sump pump for our house. It's you who can do the check and balance to select yours.
Frequently Asked Question?
What is the best residential sump pump?
The best residential sump pump requires, to solve the basement water clogging effectively. It requires regular service to give secured structural and paint issues in the basement. Clients appreciate Pumps with 10-15 years of performance. Proper manufacturing and easy to handle pumps will serve your purpose for a longer time.
Who makes the best residential sump pump?
Suitable quality pumps come from industry-leading manufacturers who have 20-30 years of knowledge. Through a significant amount of sales and user reviews, they bring the product with necessary features and affordable prices to get proper client response. Superior pump, flotec, Zoeller, Wayne, and few other brands manufacture performance, and heavy-duty pumps to facilitate clients.
How long do the residential sump pump systems last?
A sump pump is supposed to have features to drain the outright amount of water from the basement. The automatic floating switch is a common element to make it user friendly. Generally, these cast iron and thermoplastic pumps last 10-12 years easily. Based on quality material and accessible maintenance features, a pump provides service up to 15 years without any hassle.
How does a sump pump work?
Final Verict
Selecting the best residential sump pump is time-consuming with proper knowledge and features, you can judge and pick the best one from the market. We have gathered the necessary information for you to make the decision. It's you who can choose the right elements of your pump. So, pick the best from the market!